A Delta Air Lines Boeing 717 came rest with its nose on the runway at Charlotte on 28 June after the pilots landed without the jet's nose-gear deployed.
Images posted on Twitter show the 717, which had been operating flight 1092 from Atlanta, on the runway with its forward doors open and at least one forward evacuation slide deployed.
The Federal Aviation Administration confirms the incident, which occurred at 08:51 local time at Charlotte Douglas International airport.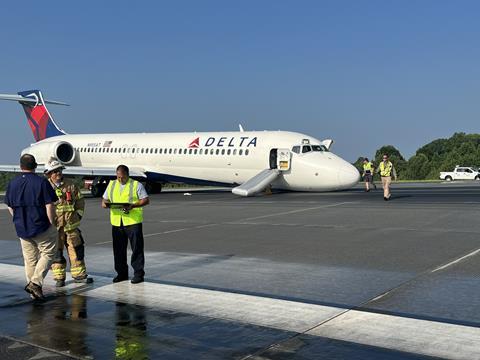 "The Boeing 717 came to a stop on Runway 36L, which is now closed. No injuries were reported. The FAA will investigate," it says.
Delta says the aircraft was carrying two pilots, three flight attendants and 96 passengers.
"We are working [with Charlotte] airport officials to safely move the aircraft from the runway," the airline adds.
The aircraft (registration N955AT) took off from Atlanta at 07:25 and had circled the Charlotte airport several times before landing, according to flight tracking website FlightAware.com.
The 717 was manufactured in 2000 and had initially been operated by AirTran Airways before that carrier was acquired by Southwest Airlines, according to Cirium fleets data. Delta has operated the jet since March 2014.
The aircraft has logged 60,500h of flight and completed 42,900 take-off and landing cycles, Cirium data shows.