Chinese officials say air traffic controllers were unable to contact the stricken China Eastern Airlines Boeing 737-800 before it crashed in the centre of the country on 21 March.
Detailing what little is known about the narrowbody's final moments, the Civil Aviation Administration of China (CAAC) says air traffic controllers from the Guangzhou flight information region noticed the the sharp drop in altitude and had attempted to make contact, but "received no reply".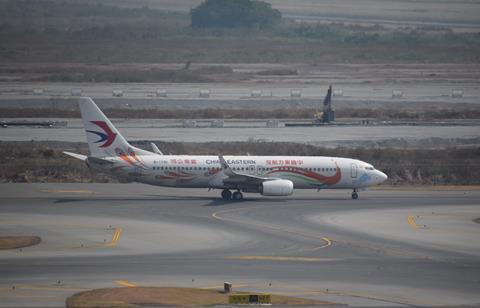 The aircraft (B-1791/MSN41474) was operating service MU5735 from Kunming to Guangzhou, and was carrying 123 passengers and nine crew members.
According to the CAAC, the 737 took off from Kunming airport at 13:16 and entered the Guangzhou flight information region at 14:17, at a cruising altitude of about 30,000ft.
Around 3min later, the 737 was rapidly losing altitude, and attempts to contact the flightcrew went unanswered. Then, at 14:23, the aircraft's radar signal disappeared.
The account tallies with aircraft tracking data, which indicates that the twinjet had completed about three-quarters of its flight when it plunged abruptly from 30,000ft to ground level.
Investigators are meanwhile doubling down on efforts to find the aircraft's flight-data and cockpit-voice recorders.
China Eastern stresses that the aircraft met airworthiness requirements before take-off. In the meantime, the airline has indefinitely grounded its fleet of more than 100 737-800s.
Separately, the CAAC has implemented an immediate two-week, industry-wide "safety inspection" following the crash "to ensure the absolute safety of people's lives".
The "major" effort will cover all segments of the country's massive aviation industry, including air traffic control, airlines, airport operators, MRO providers, as well as flight-training institutions.
Its scope will include the implementation of regulations and standards, safety management, and safety responsibility.
The announcement comes as Chinese leader Xi Jinping – in a rare move – called for an "all-out" rescue operation, as well as to discover the cause, the country's first air crash in more than a decade.
Cirium fleets data indicates that B-1791 was delivered to China Eastern in June 2015, and served with China Eastern Airlines Yunnan.