The US Department of Transportation's top inspector has doubts that the Federal Aviation Administration, as currently structured, can identify risks within its Organisation Designation Authorization (ODA) programme.
That is according to a report released on 24 February by the DOT's Office of Inspector General (OIG). The report stems from a review of the FAA's certification oversight, undertaken in response to two Boeing 737 Max crashes.
"While the agency has taken steps to develop a risk-based oversight model and address concerns of undue pressure at the Boeing ODA, it is not clear that FAA's current oversight structure and processes can effectively identify future high-risk safety concerns at the ODA," says the report.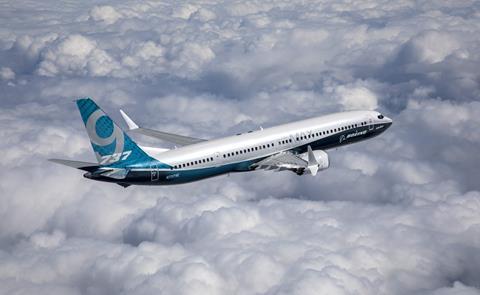 ODA are groups within aerospace manufacturers that the FAA approves to conduct broad swaths of product certification work.
The OIG concludes that weaknesses in the FAA's certification process and ODA programme hindered its oversight of the 737 Max's certification.
Investigators found that a major contributing factor to two 737 Max crashes was the jet's Maneuvering Characteristics Augmentation System (MCAS), which pitches the Max's nose down in certain flight scenarios. Boeing equipped the Max with MCAS because the aircraft's larger engines can make the jet pitch nose up.
"FAA's certification guidance does not adequately address integrating new technologies into existing aircraft models," the OIG report says. "FAA did not have a complete understanding of Boeing's safety assessments performed on MCAS until after the first accident."
"We appreciate the inspector general's review of the 737 Max design and certification, as well as the recommendations to strengthen and improve the regulatory process," Boeing says. "Boeing cooperated fully and extensively with the inspector general's review."
The company has "undertaken significant changes to reinforce our safety practices" and has "made meaningful improvements across our company".
The FAA and Boeing followed proper certification processes with the Max, but the audit "identified limitations in FAA's guidance and processes that impacted certification and led to a significant misunderstanding of" MCAS.
"Engineers in FAA's Boeing oversight office continue to face challenges in balancing certification and oversight responsibilities," the report says. "The Boeing ODA process and structure do not ensure ODA personnel are adequately independent."
The OIG issued 14 recommendations.
Those include a call for the FAA to update its "changed product rule", under which it approves derivatives of existing types, and to better specify when a new system should be classified as a "novel or unusual design".
It also urges the FAA to update guidance related to pilot reaction times and to ensure ODAs have adequate "internal controls".
"The FAA concurs with OIG's recommendations, many of which align closely with those of other reviews and experts," the FAA says in a response within the report. "FAA has already made substantial progress towards implementing reforms that address some of your recommendations."
It adds that the audit will aid in "bolstering FAA's certification and oversight programmes and improving aviation safety".
"While FAA anticipates completing intermediate steps for many of these recommendations in advance [of specified dates], some recommendations may require regulatory action to implement," it adds.
Lawmaker Peter DeFazio, who pushed for the audit, says the "findings mirror the multiple failures of the aircraft certification process that we discovered during our own investigation".
"I have been and remain seriously concerned that Boeing was able to put a fatally-flawed aircraft into service under FAA's certification process — a fundamental indictment of the shortcomings of that process", DeFazio says.