Aegean Airlines, EasyJet and Wizz Air have become the first carriers to sign up to the European Union Aviation Safety Agency's protocol of measures aimed at ensuring the safe restoration of air services.
The three airlines have pledged to work with their national authorities to put the recommended measures in place, says EASA.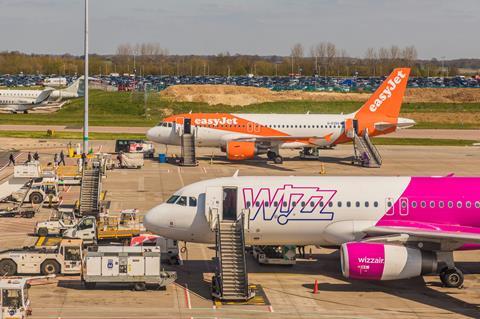 Seven European airports and airport operators have also signed up to the protocol. These include Spain's AENA, Germany's Fraport, Paris Charles de Gaulle and Nice in France, Brussels Airport Company, Milan airport's operator SEA and Athens airport in Greece.
"These airlines and airports will lead the way in applying the recommended measures and will share their experiences with us," states EASA executive director Patrick Ky. "This will help us to reach the ultimate goal of harmonised, health-safe travel across Europe and to destinations beyond."
EASA published its protocol jointly with the European Centre for Disease Control and Prevention on 21 May. The protocol emphasises an "end-to-end" and "pragmatic" approach – covering six phases of the journey – which recognises that airlines, aircraft and airports are individually different.
Under the protocol, "significant changes" will be required in airline and airport processes, with risk-mitigation put in place where physical distancing is not possible. Passengers and crew must wear medical face masks throughout the journey and practise scrupulous and frequent hand washing.
EASA recommends that airlines and airports adapt the guidelines to their specific operations, with support from safety regulator and the ECDC.
"I am pleased to have signed up to EASA's charter," states EasyJet chief executive Johan Lundgren. "We have worked very closely together in order to implement enhanced safety measures for the wellbeing of all on board.
"We look forward to welcoming customers on board in the coming days with the new measures in place."
Wizz Air chief executive Jozsef Varadi says he is "convinced that the experience gained and shared by airlines of this charter will support the industry to fine-tune and harmonise operations, as well as the protective measures to support the return of passengers to flying".