An Emirates Airbus A380 suffered a tyre rupture during cruise, damaging a "small portion" of the aircraft's aerodynamic fairing.
The incident occured while the aircraft was operating flight EK430 from Dubai to Brisbane on 1 July. According to flight tracking data, the aircraft involved was A6-EVK (MSN260), an A380 delivered to the airline in 2019.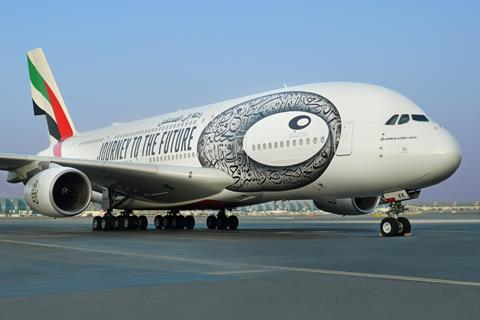 "One of the aircraft's 22 tyres ruptured during cruise, causing damage to a small portion of the aerodynamic fairing, which is an outer panel or the skin of the aircraft. At no point did it have any impact on the fuselage, frame or structure of the aircraft," the airline says in a statement to FlightGlobal.
The flight was not diverted following the rupture, and landed without incident at Brisbane.
Images on social media show that the aircraft's left wing fairing was damaged from the incident. Emirates says the fairing has since been replaced and checked, after being cleared by its engineers, as well as Airbus and relevant authorities.
Emirates is a prolific A380 operator, and has 78 in-service examples in its fleet.