Though the cause of the Ukraine International Airlines crash remains unconfirmed, defence experts suspect high stress and poor civilian-military coordination led ill-trained missile units to mistakenly shoot down the Boeing 737-800.
US and Canadian officials have already said they believe Iranian surface-to-air-missiles (SAMs), possibly fired by accident, downed flight PS752 on 8 January, killing 176 people.
Experts believe the missiles were Russian-made short-range Tor-M1 SAMs.
Iran has denied the missile allegation as "scientifically impossible", but defence experts say circumstances and evidence increasingly point to a missile.
"The more that comes out about this, the more that it's certainly a very plausible explanation," says Douglas Barrie, senior military aerospace fellow at research group International Institute for Strategic Studies.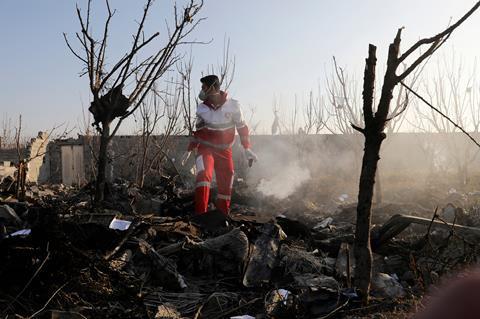 The aircraft crashed several minutes after takeoff from Tehran's Imam Khomeini International airport. It reached 8,000ft altitude before crashing while on fire and without distress calls, according to Iran.
The incident came hours after Iran fired missiles as US-occupied targets in Iraq – an action President Donald Trump had pledged to avenge with strikes against multiple Iranian targets.
Iranian authorities quickly attributed the crash to mechanical issues, according to reports.
That conclusion seemed an "immediate, knee-jerk reaction… They [called] it a mechanic failure well before they could have reasonably come to that conclusion," says Ian Williams, missile defence expert at Washington, DC-based Center for Strategic and International Studies.
Reports also surfaced that Iran quickly cleared the crash site – allegations Iran also denied, according to reports.
US officials said they tracked two missiles in Iranian airspace at the time the aircraft exploded. In the days since, video purportedly showing a missile slamming into the aircraft have surfaced, as have unverified pictures of missile fragments near the crash site.
RUSSIAN-MADE MISSILE
"The most likely scenario is that a badly trained or inexperienced crew of [a Tor-M1], exhausted after being on alert for days during the US-Iran standoff and scared of being hit as part of a retaliatory US strike… made a series of tragic and incorrect assumptions when PS752 appeared on their radar screen," Justin Bronk, airpower research fellow at UK think tank Royal United Services Institute, writes in a 10 January post.
Iran likely launched the missile from Mehrabad airbase outside Tehran, he writes.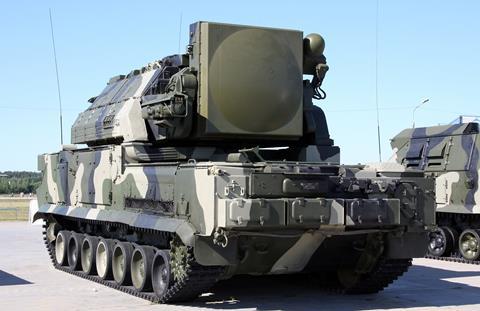 Acquired by Iran last decade, Tor-M1 missile batteries are mobile-deployed, radar-guided missiles with about 6.5nm (12km) range and maximum altitude of 20,000ft-26,000ft, says Williams.
Tor-M1s carry a lightweight, 15kg (33lb) warhead and are designed to destroy fighters, cruise missiles and drones. They explode near, and shoot shrapnel into, targets – possibly explaining why crash pictures appear to show small holes in the wreckage, says Williams.
Williams suspects the strike did not immediately destroy the 737 and that the pilots attempted to return to the airport before the aircraft succumbed.
STRESSED MISSILE CREWS
Because Tor-M1s are mobile units, designed to move with military formations in the field, their control systems have greater autonomy and perhaps less inter-connection with broader air defence systems, leaving launch decisions in the hands of small units, Williams says.
He believes Iran's regular army, possibly even conscripts, operate its Tor-M1s. Those units likely get "less training, which may have contributed to the shoot down", he says.
Williams questions why Iran deployed SAMs close to an international airport and failed to close airspace to civilian traffic on a night it launched missiles at US targets.
"They should have grounded all aircraft," he says. "That is one of the biggest failures here, the thing that really shows the incompetence on their part."
Experts say the incident appears to show Iran lacks a unified defence system and protocols used by other nations to prevent striking civilian aircraft.
Williams suggests President Trump made tensions worse by having threatened a massive military response.
"I think you can point a little finger at the Russians for proliferating these systems," he adds. "Stop selling sophisticated air defence to countries that are going to use them like this, use them in irresponsible ways."