The Federal Aviation Administration has added 169 new high-altitude aviation corridors along the east coast of the USA designed to save time and fuel.
The US aviation regulator rolled out the new routes on 1 May, ahead of the northern hemisphere's busy summer travel season.
"These significant improvements to our national airspace system are just in time for summer and will help travellers get to their destinations more efficiently," Tim Arel, chief operating officer of the FAA's Air Traffic Organization. "The new routes will reduce complexity and redistribute volume across all available airspace."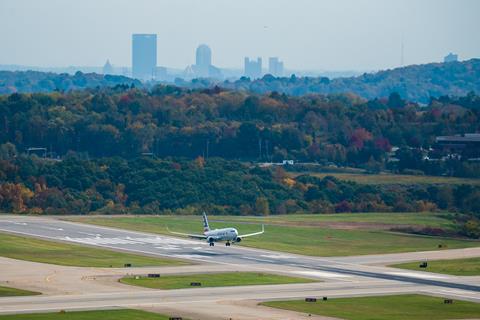 The FAA says the shorter direct routes, most of which operate above 18,000ft MSL, will "shave off 40,000 miles and 6,000 minutes" of travel time every year. They are situated along the east coast and offshore over the Atlantic Ocean and Gulf of Mexico.
The new routes, or "highways in the sky", are based on GPS satellite navigation and took "more than seven years" to develop and implement, FAA says.
"The change helps prevent delays by giving the agency more capacity to direct traffic to specific routes based on the aircraft's destination," the regulator adds. "When weather occurs, controllers will also have more flexibility. Finally, fewer converging points and more simple flows enhance safety."
The FAA says that so far this year, inclement weather has accounted for more than 62% of flight delays across the national airspace system.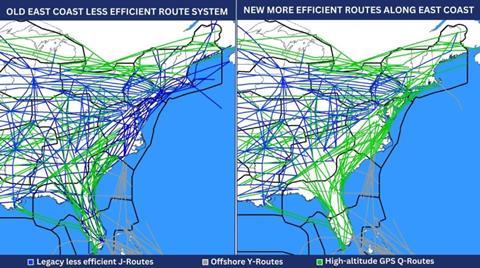 The upcoming summer months are usually the busiest in terms of air travel across the USA, and the industry expects another banner year due to lingering pent-up demand following the almost three-year coronavirus crisis.
That said, airlines, airports, vendors and air traffic control (ATC) authorities have been struggling with staff shortages as well as supply chain issues in recent months. Unpredictable summer weather also often contributes to disruptions across the aviation system during this period.
Last month, the FAA took the unusual step of allowing airlines to temporarily vacate some of their allocated take-off and landing slots at major hubs in the Northeast USA due to ATC worker shortages. The regulator hopes to thereby reduce the overall volume of traffic in the region and, in turn, possible widespread delays and cancellations.
Typically, airlines must use assigned slots at traffic-restricted airports 80% of the time. During the global Covid-19 pandemic, when air traffic dropped sharply as a result of global travel restrictions, aviation regulators relaxed such requirements, allowing airlines to maintain slots without long-term penalty.
United Airlines, JetBlue Airways and others with large operations in the region have taken advantage of this programme and trimmed their schedules accordingly.