The Federal Aviation Administration and US cell phone companies Verizon and AT&T have agreed on further steps to mitigate possible interference with new fifth-generation (5G) phone signals on aircraft radio altimeters.
The US aviation regulator lauds the "continued technical collaboration" with the telecoms companies, which switched on 5G towers on 19 January following several delays due to fears the signals would cause hazards to landing aircraft at hundreds of US airports.
The FAA says on 28 January that the cell phone companies have "provided more-precise data about the exact location of wireless transmitters and supported more thorough analysis of how 5G C-band signals interact with sensitive aircraft instruments". It used this data to "more-precisely map the size and shape of the areas around airports where 5G signals are mitigated, shrinking the areas where wireless operators are deferring their antenna activations".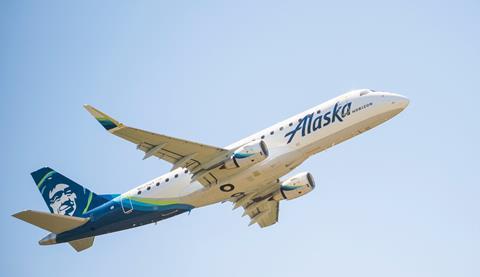 The FAA has now approved about 90% of the US commercial airline fleet to perform low-visibility landings at airports where wireless companies deployed their 5G C-band, with some exceptions. Most large aircraft and regional types are included in that list.
The conflict stemmed from the two US telecoms companies' introduction of transmissions in the C-Band as part of new 5G networks. The battle pitted the FAA against the Federal Communications Commission (FCC), which authorised the launch. Fearing interference with aircraft radio altimeters could cause a hazard to landing aircraft in low-visibility environments, the FAA issued airworthiness directives (ADs) banning those kinds of landings.
That led the aviation industry to warn of potential massive disruption to airline schedules. The FAA began issuing exceptions to its ADs after testing showed the risk to most aircraft instruments was less than originally thought.
Since the towers were switched on on 19 January, dozens of flights have been affected by the FAA warnings, but mass chaos has been avoided in most regions.
On 24 January, for example, all flights to and from Seattle-area Paine Field were cancelled. Alaska Air Group subsidiary Horizon Air flies Embraer 175s to that airport, and the type was not cleared to operate in the 5G environment in inclement weather.
Regional Airline Association (RAA) chief executive Faye Malarky Black has repeatedly complained that regional carriers, which fly smaller aircraft to secondary cities under contract with major airlines, were not involved in discussions about 5G or the deal cut with cell phone companies. That left regional airlines in limbo the towers went live, and puts them at risk for further disruption as more 5G towers are activated near smaller airports.