US and European regulators have approved Gulfstream's software fix to a G500 and G600 flight-control issue that significantly limits conditions in which the jets are permitted to fly.
The Federal Aviation Administration on 12 September approved the fix, which addresses an issue with a system intended to prevent stalls but that caused two hard landings.
The European Union Aviation Safety Agency (EASA) followed with its own approval today, Gulfstream says on 13 September.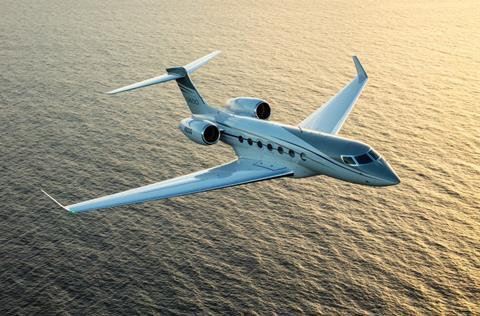 The hard landings occurred in February 2020 and April 2022 during windy conditions and did not cause any injuries, according to the US regulator.
The issue involved erroneous activation of the jets' angle-of-attack (AOA) "limiter" (also called the alpha limiter), which is designed to prevent stalls, the FAA has said. In both cases, the jets' "alpha limiter engaged in the landing flare in unstable air", the FAA said.
The regulator did not immediately confirm its approval to FlightGlobal.
In May, Gulfstream responded by issuing flight manual updates to both G500s and G600s, which share flight control systems. The updates called for pilots not to land when wind speeds exceeded 15kt (28km/h), or when gusts exceeded 5kt.
The FAA followed days later with an airworthiness directive mandating the same.
Now the FAA and EASA have approved the update, meaning jets with the fix are not subject to the operating limits, says Gulfstream president of customer support Derek Zimmerman. "All the aircraft operating characteristics revert back to the original type certificated aircraft."
Gulfstream expects 10 to 20 aircraft will have the fix by the end of 13 September, and that 90% of the fleet will be updated by the end of September. Most jets that do not have the fix by then will be those on the ground for other maintenance, says Zimmerman.
There are some 170 G500s and G600s in service globally.
Gulfstream is offering the software fix at its regular service and repair facilities (it has 14 worldwide), and at three other sites: those in Fort Smith in Arkansas, Basel in Switzerland, and Singapore, says Zimmerman.
The update takes 12-16 worker-hours to complete. Two workers typically do the job, meaning it can be done in about 8h, Zimmerman says.
The severity of the operating restrictions made fixing the software a priority for Gulfstream. As such, the company transitioned staff to the project who had been working on certification of the G700. Gulfstream then delayed the G700 and the follow-on G800 development programme by three to six months.
Gulfstream pushed the G700's projected certification from the end of 2022 to mid-2023, with the G800 to follow by six months.