Federal Aviation Administration chief Steve Dickson will leave the agency effective 31 March, roughly halfway into what was to be a five-year term.
Dickson, who became FAA administrator in August 2019, disclosed his departure plans in a 16 February message to FAA staff.
In the note, Dickson says he made the "difficult decision to step down as FAA administrator". He does not specify why he is leaving but says he intends to spend more time with his family.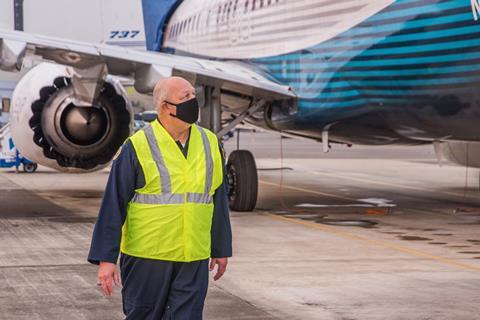 "After sometimes long and unavoidable periods of separation from my loved ones during the pandemic, it is time to devote my full time and attention to them," Dickson's message says.
"Over the past several years, my family has been a source of tremendous encouragement, strength and support."
Dickson has notified president Joe Biden of his pending departure.
The administrator led the FAA during a period defined by the Boeing 737 Max crisis and troubles with the 787 programme.
During his tenure, Dickson testified before congressional committees about his agency's handling of the Max's certification. He defended the FAA, insisting that under his watch it would not re-approve the Max until it had full confidence in the type's safety.
More recently, the FAA has been scrutinising the way Boeing is addressing 787 quality problems and has been embroiled in a spat with the telecommunications industry over the use of new radio frequencies for "5G" networks. The FAA fears the wireless transmissions will interfere with aircraft radio altimeters. The agency has also been working through certification of Boeing's 777-9.
The FAA declines to comment about plans for Dickson's successor.
Dickson worked nearly 30 years at Delta Air Lines, holding positions including senior vice-president of flight operations. A pilot, he also flew 727s, 737s , 757s, 767s and Airbus A320s.