The US Federal Aviation Administration is investigating what it calls another "close call" involving two aircraft coming way too close, this time at Boston Logan International airport.
The incident, shortly before 19:00 on 27 February, involved a JetBlue Airways Embraer 190 and a Learjet operated by charter company Hop-A-Jet, the FAA said on 28 February.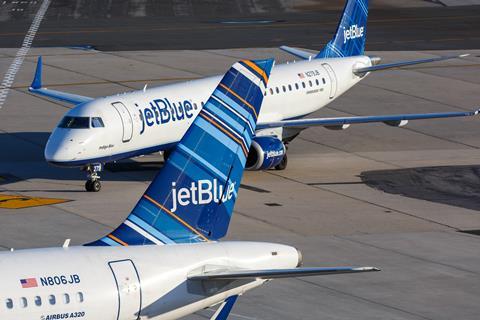 "The FAA is investigating a close call between a Learjet and a JetBlue flight Monday night at Boston Logan International airport," says the agency. "According to a preliminary review, the pilot of a Learjet 60 took off without clearance while JetBlue flight 206 was preparing to land on an intersecting runway."
The FAA says an air traffic controller instructed the Learjet pilot to "line up and wait on Runway 9 while the JetBlue Embraer 190 landed on Runway 4-Right".
"The Learjet pilot read back the instructions clearly but began a take-off roll instead," says the FAA. "The pilot of the JetBlue aircraft took evasive action and initiated a climb-out as the Learjet crossed the intersection."
The FAA says it is investigating the distance between the aircraft.
JetBlue tells FlightGlobal its E190 "landed safety in Boston after our pilots were instructed to perform a go-around by air traffic controllers".
The company requests further inquiries be directed at "authorities".
The JetBlue E190 had been operating a flight from Nashville, according to FlightRadar24.com.
Hop-A-Jet, based in Fort Lauderdale, did not respond to a request for comment.
The incident follows at least two other recent close calls at US airports.
On 4 February, an air traffic controller cleared a Southwest Airlines Boeing 737 to take off from Austin just as a FedEx 767 was landing. The jets reportedly came within about 100ft of each other.
And on 13 January, pilots of an American Airlines 777 erroneously crossed a runway at New York's John F Kennedy International airport while a Delta Air Lines 737 was accelerating for take-off. The Delta pilots aborted their take off.
In response to those events, FAA acting administrator Billy Nolen on 15 February said his agency was launching a safety review.
"Because I want to make sure we are giving the right attention to all of these recent occurrences, I have formed the safety review team to examine the US aerospace system's structure, culture, processes, systems and integration of safety," Nolen told lawmakers.