The Federal Aviation Administration has fined passengers another $500,000 for disruptive and violent behaviour aboard aircraft, bringing the total amount of civil penalties levied by the agency for such offences in 2021 to more than $1 million.
The US aviation regulator says on 19 August that since January it received 3,889 reports of "unruly behaviour", including 2,867 instances involving passengers refusing to comply with the federal face mask mandate.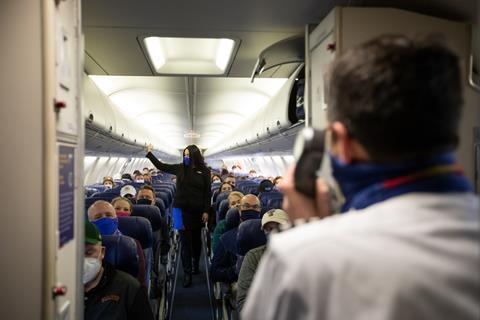 The mandate, which went into effect in January and was due to expire on 13 September, will now be extended into mid-January, the Transportation Security Administration (TSA) – responsible for security screenings at almost 450 airports nationwide – said earlier this week.
FAA Administrator Steve Dickson signed a "zero tolerance" order in January aimed at deterring belligerent behaviour aboard aircraft.
Since then, the FAA says the number of such incidents has increased. It has reacted by slapping disruptive passengers with fines ranging from $7,500 to $52,500.
Earlier this month, the FAA also sent a letter to airports requesting they coordinate more closely with local law enforcement to prosecute criminal cases. The FAA lacks authority to prosecute such cases.
In its most-recent rulings, announced on 19 August, the FAA fined 34 passengers a combined $531,545 for infractions ranging from interfering with crew duties to outright violence.
The FAA punished one passenger with a $45,000 fine for an incident on a JetBlue Airways flight from New York to Orlando. The passenger was caught allegedly throwing objects, including carry-on luggage, at other passengers, lying on the floor in the aisle, refusing to get up, and then grabbing a flight attendant by the ankles and "putting his head up her skirt", the FAA says. The aircraft diverted to Richmond, Virginia.
Another incident, also on JetBlue, elicited a $42,000 civil penalty for a passenger who was "interfering with crewmembers after failing to comply with the face mask mandate", making "non-consensual physical contact with another passenger", threatening a passenger with physical harm, making stabbing gestures and "snorting what appeared to be cocaine from a plastic bag". That flight, from New York to San Francisco, diverted to Minneapolis, Minnesota.
The FAA fined a passenger $10,000 for a face mask related disruption, after which he "also acted as though his hand was a gun and made a 'pew, pew' noise as if he was shooting a fellow passenger". He also "repeatedly pushed the call light button during a PA announcement by the captain and, when the flight attendant responded, he gestured at the PA system and responded in nonsensical babble".
A smaller fine of $7,500 was slapped on a passenger for hiding a flight attendant's jacket under his seat and punching an aircraft window and tray table – after not complying with the face mask rule. Law enforcement escorted him off the aircraft, the FAA says.