The Federal Aviation Administration (FAA) has proposed fining Boeing a total of $1.25 million in civil penalties for several violations of rules that allow aircraft manufacturers to perform some FAA functions.
The regulatory body says on 5 August that the Chicago-headquartered airframer exerted "undue pressure or interfered with the work of FAA designees" at the company's plant in North Charleston, South Carolina.
Both fines are for transgressions around the company's Organization Designation Authorization (ODA) programme that allows aerospace manufacturers to perform some certification work on behalf of the FAA, in order to standardise processes and potentially save time.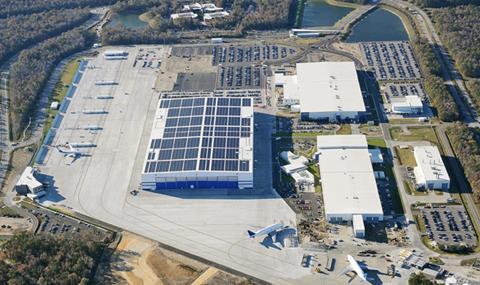 The first fine, for $1,066,655 is for a series of violations that occurred between November 2017 and July 2019, where employees in two ODA units reported to managers who were not in approved ODA management positions, the FAA says.
"Boeing failed to ensure ODA administrators were in a position to effectively represent the FAA's interests," the FAA says.
Furthermore, between September 2018 and May 2019, "non-ODA Boeing managers exerted undue pressure or interfered with ODA unit members".
The second fine, for $184,522, is in response to an allegation that in February 2020 Boeing "failed to follow its quality control processes and subjected ODA members to undue pressure or interfered with an airworthiness inspection of a Boeing 787-9".
Boeing responds on 5 August that the penalties are "a clear and strong reminder of our obligations as an ODA holder", and that "undue pressure of any type is inconsistent with our values and will not be tolerated". The company says both allegations were appropriately reported and investigated, and that it fully cooperated with the FAA's own independent inquiry.
"Boeing implemented corrective action in response to both incidents," the airframer adds.
The outsourcing of duties as a part of the ODA process has long been under fire from critics, who describe it as being ripe for abuse and that it lacks oversight.
In a report issued in June in response to two fatal accidents involving the 737 Max aircraft in 2018 and 2019, the FAA maintained ODA was "an effective and efficient method to enhance safety", though it pledged improvements.
Just last week Boeing said that it would be cutting production of the 787 to six aircraft per month by 2021, and that it had embarked on a review of its 787 production footprint. This led to speculation that work on the widebody, which is currently built in North Charleston and also on a final assembly line at its Everett site in Washington's Puget Sound region, will be consolidated to just one line.
Analysts have said they see South Carolina as the future of the 787 partly because only that site produces the largest 787 variant – the 787-10.
Though engineers developed the 787-10 in Everett, the jet's mid-body fuselage is too large to be transported from South Carolina, where it is made, to Everett, for final assembly, Boeing has said.