The Federal Aviation Administration is requiring US operators to immediately conduct thermal-imaging inspections of fan blades on certain Pratt & Whitney engines after the recent PW4077 failure on a United Airlines flight.
The FAA's emergency airworthiness directive (AD), issued on 23 February, says that it has "determined the unsafe condition… is likely to exist or develop in other products of the same type design".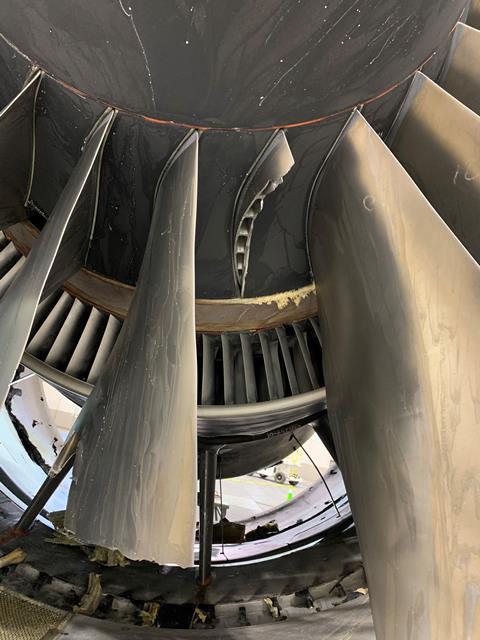 On 20 February, a United Airlines Boeing 777-200 (N772UA) suffered a failure of its right-hand engine just minutes after taking off from Denver International airport, raining debris across several neighbourhoods.
The aircraft left Denver as UA328 at 13:04 local time, destined for Honolulu with 241 people on board. It made an emergency landing back in Denver about 25 minutes later. There were no injuries.
The aircraft was powered by Pratt & Whitney PW4077 turbofans. It was the third time in less than three years that this engine type has suffered dangerous and catastrophic failures.
"After reviewing the available data and considering other safety factors, the FAA determined that operators must conduct a thermal acoustic image (TAI) inspection of the large titanium fan blades located at the front of each engine," the regulator writes on 23 February. "TAI technology can detect cracks on the interior surfaces of the hollow fan blades, or in areas that cannot be seen during a visual inspection."
After a preliminary on-site exam in Denver over the weekend, the National Transportation Safety Board (NTSB) said on 22 February that the engine failure was likely caused by metal fatigue on one of the 22 fan blades.
NTSB Chairman Robert Sumwalt said that one blade was severed at the root. A second blade, severed mid-span, likely broke off when it was hit by the first. One of the fan blades was embedded in the engine containment ring, while the other was found on a soccer field in a Denver suburb.
The AD is effective immediately, meaning that airlines must ground the aircraft until the inspection is complete. The engine's previous inspection interval had been 6,500 flight cycles. One cycle consists of one take off and one landing.
United Airlines, the only US operator of the type with this engine, voluntarily grounded its 24 affected aircraft on 21 February.
Two other PW4000 failures in recent years involved a JAL 777 in December 2020 and a United 777 over the Pacific Ocean in 2018. Investigators also traced the 2018 incident to a blade failure.
Cirium fleets data shows that six airlines globally have 60 in-service 777s with PW4000s, with 67 aircraft in storage. Operators comprise All Nippon Airways, Asiana Airlines, Japan Airlines, Jin Air, Korean Air, and United Airlines.