The US Federal Aviation Administration has launched an investigation into manufacturing issues that could affect some Boeing 787s, as ANA confirms that Boeing asked it to ground one 787-10.
"The Federal Aviation Administration is investigating manufacturing flaws affecting certain Boeing 787 jetliners," says the FAA. "The agency continues to engage with Boeing. It is too early to speculate about the nature or extent of any proposed Airworthiness Directives that might arise from the agency's investigation."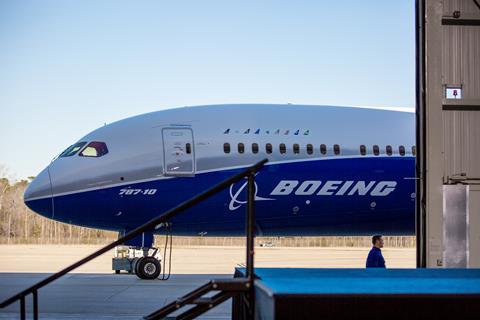 In late August, Boeing ordered that eight recently-built 787s be removed from service because of two "distinct manufacturing issues."
A Wall Street Journal report, citing an internal FAA memo, says US regulators are reviewing lapses in quality control at the company's Charleston factory. The two issues appear to be "nonconforming" rear fuselage sections, as well as how the company produces shims for the 787 at Charleston.
Reports have suggested that the issue relates to aircraft produced at Charleston in 2019, although Boeing is apparently assessing the entire 787 fleet.
In a subsequent email to FlightGlobal, Boeing had this to say: "We found that some airplanes have shims installed that are not the proper size, and some airplanes have areas that do not meet our skin flatness specifications per Engineering. Individually these issues, while not up to specifications, still meet limit load conditions. When combined in the same location however, they result in a condition that does not meet limit load requirements. We immediately contacted the airlines that operate the eight affected airplanes to notify them of the situation, and the airplanes have been temporarily removed from service until they can be repaired."
FlightGlobal has contacted 787 operators in the Asia-Pacific about the production issues, with two carriers responding.
All Nippon Airways (ANA) has removed one Boeing 787-10 from service following an advisory from Boeing. The aircraft bears the registration JA901A (MSN 62685), according to the airline.
ANA did not cite the specific circumstances related to JA901A's service withdrawal.
"We have been notified of the situation by our valued partner Boeing and immediately removed the one aircraft dedicated to international flights from service," says ANA.
"As the launch partner of the 787 and operator of the largest 787 fleet in the world, we will work with our partners and regulators to develop a solution. While we are still assessing the situation, with the reduced market demand for global destinations, this aircraft doesn't need to be returned to service immediately."
According to Cirium Fleets data, JA901A was handed over to the airline on 30 June 2019. The jet was placed in storage on 16 August 2020.
The carrier has one other 787-10, JA900A (62684), that is listed as in service. Overall, ANA's 787 fleet comprises 64 787s, of which 13 are in storage. In addition, it has orders for 12 additional -10s and nine -9s.
Vietnam Airlines, which operates 11 787-9s and four 787-10s, says it contacted Boeing upon learning about the structural issue.
"We contacted Boeing regarding this matter," says Vietnam Airlines. "Boeing confirmed that the issues were found on 8 airplanes which initiated a continued operational safety program and safety determination. None of these planes is within Vietnam Airlines."
Of its four 787-10s, three examples were delivered in 2019. Cirium fleets data lists its entire 787 fleet as in service.
FlightGlobal has yet to receive comment from other Asia-Pacific 787 operators.
Boeing's initial grounding order, first disclosed by The Air Current, related to eight 787 aircraft operated by Singapore Airlines, United Airlines, and Air Canada.
Updated with response from Boeing.

Greg Waldron is the Asia Managing Editor of FlightGlobal, responsible for the team's airline, aerospace, and defence coverage across the region. He has worked at the company since 2009. In the airline space, Waldron has conducted dozens of interviews with airline leaders in the Asia-Pacific. He also covers areas such as MRO and safety. On the defence beat, Waldron has written extensively about the rise of Chinese airpower, as well as broader airpower developments around the region, such as indigenous fighter programmes, and regional acquisitions of foreign equipment. In addition, Waldron writes about commercial helicopters in the region and business aviation. Waldron worked has a freelance journalist with his work appearing in several business publications.