The Federal Aviation Administration has issued a Boeing 787-specific order limiting that aircraft's operations due to potential interference caused by newly launched 5G cellular networks.
A new FAA airworthiness directive (AD) specifically prohibits 787s from landing at certain airports when runways are covered with ice or with water atop of snow.
Additionally, for all other runway conditions – even when runways are dry – 787 operators must now complete "minimum required landing distance" calculations at such airports, says the FAA's AD, which takes effect immediately.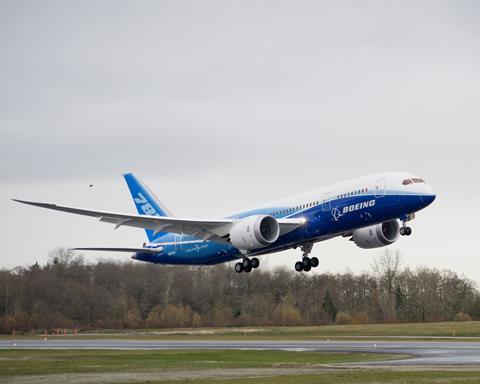 It instructs airlines to update 787 flight manuals to include the new requirements.
The move follows a 14 January notice in which the agency warned of 787-specific operating disruptions starting today due to new 5G wireless transmissions
The FAA says those transmissions can interfere with aircraft radio altimeters, though the cellular industry disagrees. The FAA already determined radio altimeters on many aircraft in US fleets – including Airbus and Boeing widebodies and narrowbodies – are safe from interference.
But 787s present unique concerns, the FAA says.
The jets' "systems may not properly transition from air to ground mode when landing on certain runways, resulting in degraded deceleration performance and longer landing distance", the AD says.
It outlines specific, concerning failures. For example, 787 auto throttles "may remain in speed mode and may increase thrust to maintain speed during flair, instead of reducing the thrust to idle", says the AD.
Additionally, 5G interference could cause thrust reversers not to deploy at speeds greater than 65kt (120km/h) during landing. Also, speed brakes may not automatically deploy, and spoilers might not fully deploy, the order says.
"The presence of 5G C-Band interference can result in degraded deceleration performance, increased landing distance, and runway excursion," says the AD.
Boeing addressed the same issue on 3 January in two notices sent to customers – a "Multi-Operator Message" and "Flight Crew Operations Manual Bulletin".
Affected 787 systems could include the "autopilot flight director system, auto throttle system, engines, thrust reversers, flight controls, flight instruments, traffic alert and collision avoidance system, ground proximity warning system and configuration warnings", says the FAA.
The AD requires 787 operating manuals to specify that pilots, during approach and landing, should "monitor radio altimeters for anomalies". If a jet's auto throttle fails to reduce thrust to idle at 25ft, pilots should manually reduce thrust, "hold the thrust levers in the idle position" and disconnect the auto throttle".