The US Federal Aviation Administration is ordering emergency inspections of some Pratt & Whitney PW4000-powered Boeing 777-200s in response to a 20 February in-flight uncontained engine failure.
The event has also prompted United Airlines and Japan to ground PW4000-powered 777s. The National Transportation Safety Board (NTSB) says the 20 February incident involved two fractured fan blades.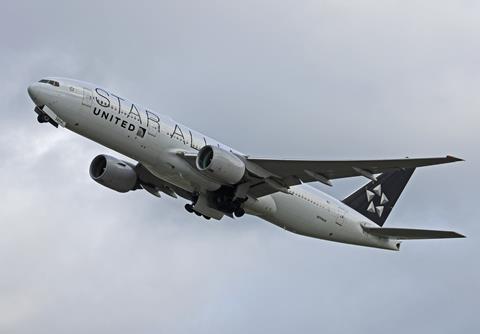 "After consulting with my team of aviation safety experts about yesterday's engine failure aboard a Boeing 777 airplane in Denver, I have directed them to issue an emergency airworthiness directive that would require immediate or stepped-up inspections of Boeing 777 airplanes equipped with certain Pratt & Whitney PW4000 engines," FAA administrator Steve Dickson says on 21 February. "This will likely mean that some airplanes will be removed from service."
"Based on the initial information, we concluded that the inspection interval should be stepped up for the hollow fan blades that are unique to this model of engine, used solely on Boeing 777 airplanes," the FAA adds.
The agency is meeting "into the evening" with Boeing and P&W to finalise the AD and related service bulletins.
"Exact details of the inspection will be specified in the emergency order," the FAA adds.
Airlines in only three countries – the USA, Japan and South Korea – operate 777s with affected PW4000 engines, according to the US regulator. Many of the jets have recently been removed from service in response to the industry downturn.
Neither P&W nor Boeing immediately responded to a request for comment about the FAA's move.
At least three PW4000s have failure in recent years, including the dramatic failure of a United 777's right-side PW4077 after take-off from Denver yesterday. That failure caused separation of the turbofan's cowl, including its nose cowl, leaving the engine mangled and spewing flames.
The United pilots landed the aircraft (registration N772UA), which was operating as flight UA328 to Honolulu, back in Denver. Debris from the engine rained down, with some components landing near Denver-area homes.
None of the 229 passengers and 10 crew aboard were injured, says the NTSB.
"We are voluntarily and temporarily removing 24 Boeing 777 aircraft powered by Pratt & Whitney 4000 series engines from our schedule," United tweeted on 21 February. "We will continue to work closely with regulators to determine any additional steps and expect only a small number of customers to be inconvenienced."
"Safety remains our highest priority, which is why our crews take part in extensive training to prepare and manage incidents like UA328," United adds.
TWO FRACTURED BLADES
"Two fan blades were fractured," says the NTSB. "One fan blade was fractured at the root."
"An adjacent fan blade was fractured about mid-span," the NTSB adds. "A portion of one blade was imbedded in the containment ring. The remainder of the fan blades exhibited damage to the tips and leading edges."
The agency says "most of the damage was confined to the number two engine. The airplane sustained minor damage".
A Denver-area NTSB investigator began the inquiry shortly after the incident, working with local law officials to recover engine "components that separated from the engine, many of which landed in residential areas".
The engine's inlet and cowling separated from the powerplant, the NTSB confirms.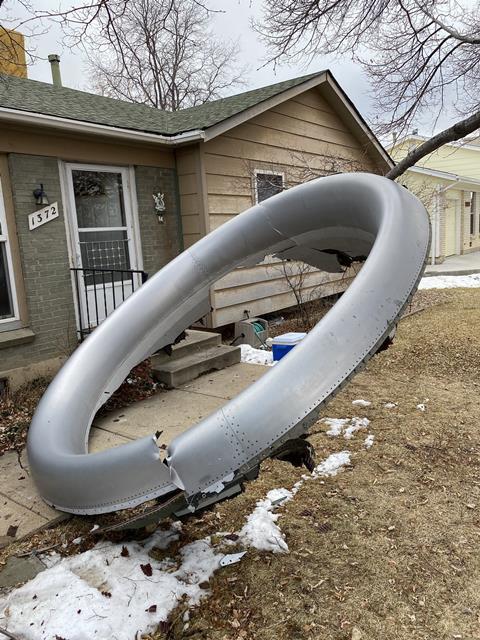 The agency has sent a lead investigator and a powerplant expert to Denver, and the jet's flight-data and cockpit-voice recorders were sent to Washington, DC for analysis.
Two other PW4000 failures in recent years involved a JAL 777 in December 2020 and a United 777 over the Pacific Ocean in 2018. Investigators traced the 2018 incident to a blade failure.
Cirium fleets data shows that six airlines globally operate 60 777s with PW4000s. Those include the United aircraft, 20 jets operated by Japanese carriers (11 by ANA and nine by JAL) and 18 operated out of South Korea (seven by Asiana, seven by Korean Air and four by Jin Air).