The Federal Aviation Administration plans to fine United Airlines $1.15 million for allegedly missing certain pre-flight checks pertaining to a fire warning system on Boeing 777s during an almost three-year period.
In a letter to the chief executive of the Chicago-based carrier, Scott Kirby, the US regulator says the airline "appears [to have] violated" numerous of its rules around safe operations of commercial aircraft.
The FAA contends the airline conducted 102,488 flights between 29 June 2018, when the check was allegedly taken out of the pre-flight checklist, and 19 April 2021, when an FAA Air Safety Inspector discovered that anomaly.
The FAA published the letter on 6 February.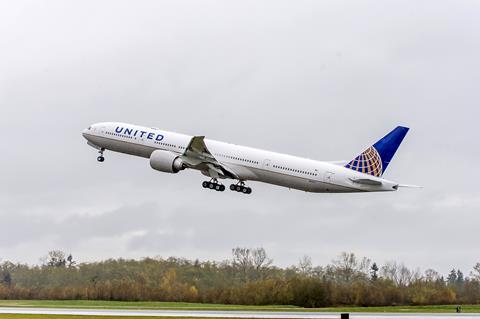 Even after the FAA "determined that the Fire Warning System check was not being performed by United's flight crew", United "knowingly initiated the operation of" six further flights without performing the check.
"United's inspection programme did not ensure that the B-777 aircraft were released to service in an airworthy condition and had been properly maintained for operation," the FAA says in its letter. "For each flight referred to…United operated the aircraft in an unairworthy condition."
United says, however, that the safety of its flights "was never in question".
"In 2018 United changed its pre-flight checklist to account for redundant built-in checks performed automatically by the 777," the airline says. "The FAA reviewed and approved the checklist change at the time it was done. In 2021, the FAA informed United that United's maintenance program called for the pre-flight check by pilots. Once confirmed, United immediately updated its procedures."
United says it will review the civil penalty and "respond accordingly".
The carrier has 30 days to respond to the FAA's allegations.
Updates on 6 February to include United Airlines' comments on the allegations and the fine.