The Federal Aviation Administration has issued new guidance designed to protect aerospace employees who perform certification work from what it calls "interference with those duties by employers".
In a draft policy notice published on 7 February, the FAA says it intends to require all allegations of interference to be reported, a move creating a path for employees to communicate directly with the regulator at any time.
The changes stem from scrutiny of the FAA's "Organization Designation Authorizations" (ODA) programme, under which it permits aerospace manufacturers to perform certification tasks.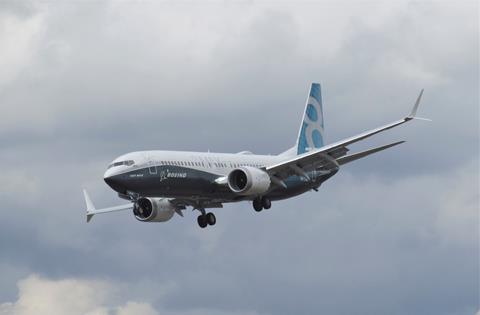 Boeing's ODA programme came under fire after two of the airframer's 737 Max jets crashed within five months in 2018 and 2019. The accidents killed 346 people and set in motion broad criticism about Boeing's design of the jet and the FAA's certification oversight.
A resulting law – the Aircraft Certification Reform and Accountability Act, signed by President Donald Trump in December 2020 – requires the FAA to review manufacturers' ODA programmes.
The law also mandates that the FAA hire more technical staff and address pilot performance factors, and ordered the FAA to require aircraft manufacturers to have organisation-wide safety structures called "safety management systems".
"Preventing interference with [ODA employees'] performance is necessary to ensure that such functions are properly conducted," the draft document states. "The ODA unit is an independent entity within the organisation when exercising a delegated function, and pressure must not be allowed to interfere."
Such pressure could include "harassment, beratement, threats and reprisal".
"ODA Holders must have approved procedures to effectively manage and investigate all reports of alleged or suspected UM interference and address instances of interference so that it does not reoccur," the note adds. "Interference with UMs performing their authorized functions on behalf of the FAA may result in suspension or termination of the ODA and/or civil penalties.
Following the 737 Max crashes, Boeing faced allegations that its managers pressured employees in its ODA division. The FAA was also criticised for its approval of the 737 Max.
A year ago, the FAA fined Boeing $6.6 million in penalties to settle three enforcement cases unrelated to the Max but targeted at the airframer's ODA programme. Boeing managers were alleged to have "exerted undue pressure or interfered with the work of FAA designees at the company's plant in South Carolina," the FAA had said in August 2020.
The FAA will accept comments on the proposed policy through 10 March 2022.