The Federal Aviation Administration intends to require airlines inspect flight control computers on more than 500 737NGs to address risks that aircraft might drift below the glideslope during landing.
A proposed rule released 26 February targets aircraft with flight control computers equipped with "operational programme software" versions "P8.0" and "P9.0".
Affected flight control computers are made by Rockwell Collins, now Collins Aerospace.
Boeing has already released a software update to address the issue, and the FAA's order, if finalised, would give airlines one year to make the updates.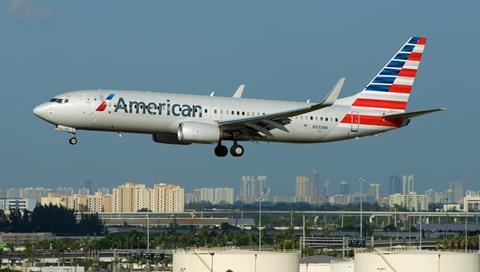 "The FAA has received reports that during autopilot-coupled instrument landing system approaches, the airplane did not capture or track the glideslope correctly," says the proposed rule. "This caused airplanes to continue descending below the glideslope without any fault indication from the autopilot system."
Those instances occurred with autopilot engaged as the aircraft descended to capture the glideslope at a rate greater than 2,000ft/min (609m/sec), and with "late arming" of the aircraft's approach mode.
"The high descent rate is maintained by the autopilot and can result in the airplane descending below the glideslope beam, which requires the flight crew to correct the problem manually," the FAA says.
That condition "can result in controlled flight into terrain on airplanes that do not have the upgraded" software, the FAA adds.
The FAA says the order would affect 520 US-registered aircraft, though it does not specify how many of those aircraft would need updates. Boeing has told the FAA that the cost of updates may be covered under aircraft warranties.
Neither Boeing nor Collins immediately responded to requests for comment.