The Federal Aviation Administration will require modifications and additional inspections of Pratt & Whitney-powered Boeing 777-200 and -300 aircraft after an in-flight engine failure in February.
The FAA says that the proposed changes will correct what it calls an "unsafe condition" of the model PW4000 series turbofan engines.
"The Federal Aviation Administration today issued three proposed Airworthiness Directives (ADs) requiring new inspections and modifications that would allow Boeing 777-200 and -300 airplanes equipped with certain Pratt & Whitney engines to return to service," the regulator says.
"The proposed directives would require: strengthening engine cowlings, enhanced engine fan-blade inspections and inspections of other systems and components, [and] specific corrective actions depending on the inspection results."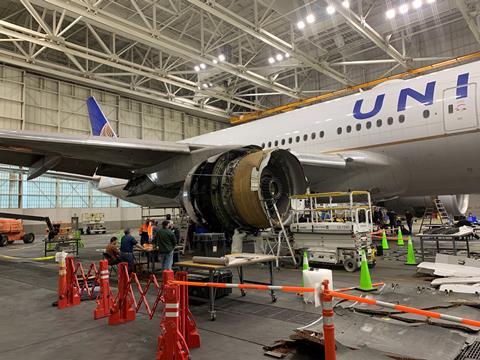 The ADs, which are scheduled for publication in the federal register on 28 December, affect 54 US-registered aircraft – all operated by United Airlines - and 108 engines, the FAA says.
Worldwide, 128 aircraft and 256 engines are affected, the agency adds.
The non-US carriers with the type in their fleets include All Nippon Airways, Asiana Airlines, Jin Air, and Korean Air. Japan Airlines also operated 13 aircraft, but retired them in April of this year.
PW4000-powered 777s have not flown in service since shortly after a United Airlines-operated example suffered a blade-out engine failure during climb on 20 February. That aircraft lost its right-hand engine just minutes after taking off from Denver International airport, raining debris across several neighbourhoods.
It had left Denver as UA328 at 13:04 local time, destined for Honolulu with 241 people on board, and made an emergency landing back in Denver about 25 minutes later. Two fan blades had cracked due to metal fatigue and the engine's inlet and cowling separated from the powerplant.
There were no injuries in that incident, but it was the third time in less than three years that a PW4000 had suffered a dangerous failure.
The two other PW4000 failures involved a JAL 777 in December 2020 and a United 777 over the Pacific Ocean in 2018. Investigators also traced the 2018 incident to a blade failure.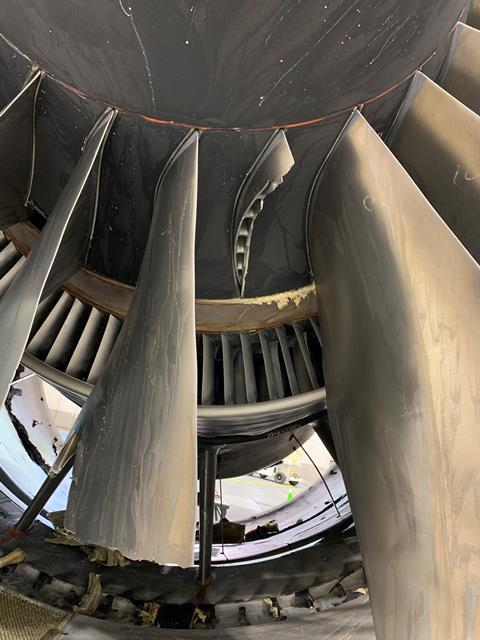 Shortly after the February incident, the aircraft were taken out of service. The FAA required operators to immediately conduct thermal-imaging inspections of the fan blades.
In early October, Boeing asked US regulators to approve incremental modifications to the 777 intended to address the risk of similar failures, rather than requiring simultaneous certification of all changes, as it pushed for the fleet's return to service.
On 22 December the Chicago-based airframer says it "supports the FAA's guidance on inspection requirements" for the engines and "and will work with our customers and Pratt & Whitney through the process".
"Airworthiness Directives are part of the long-standing rulemaking process by which manufacturers, operators and regulators work together to ensure that the safety of the world's commercial jetliners continues at the highest levels," the company adds.
United calls the new ADs "a good outcome for our industry and United customers".
"We worked closely with the FAA, Boeing and Pratt & Whitney throughout the year to ensure a thorough review process and many of the affected engines have already undergone these proposed inspections," the Chicago-based carrier says. "We expect these aircraft to safely rejoin our fleet early next year."