US aviation regulators have proposed new pilot training requirements and operational rules for electric air taxis and similar in-development aircraft.
The FAA says the move helps support the launch of the nascent "advanced air mobility" (AAM) segment, though its proposal highlights broad uncertainty associated with pilot training.
The Federal Aviation Administration on 7 June issued a notice of proposed rule-making regarding "alternate eligibility requirements to safely certificate groups of powered-lift pilots". Electric vertical take-off and landing (eVTOL) aircraft fall into the "powered-lift" aircraft category.
"Currently, there is not an established path for civilian pilots to be certificated with a powered-lift category rating," the FAA says.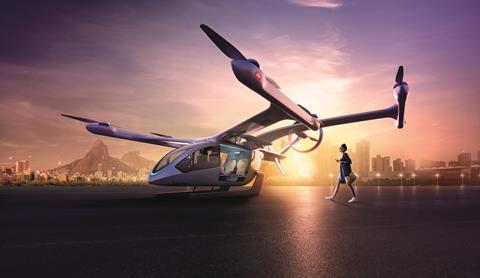 "These proposed rules of the sky will safely usher in this new era of aviation and provide the certainty the industry needs to develop," says David Boulter, the FAA's acting associate administrator for aviation safety.
The AAM space has attracted dozens of start-up companies seeking to roll out electric and, in some cases, autonomous air taxis they say will revolutionise urban transportation. But the need for better batteries and expensive new infrastructure – and unclear certification pathways – remain obstacles to commercialisation.
Notably, the proposed rules say powered-lift aircraft must have dual sets of controls for flight training, which could interfere with development pathways for eVTOLs, many of which are designed with one set of controls.
"To the extent that manufacturers have suggested that there are alternate safe means to conduct flight training without a dual set of controls, the FAA finds that those means have not been demonstrated or validated," the FAA says.
However, starting 14 June, the FAA will begin accepting comments for 60 days from the public about how flight instructors could provide training using a single set of controls "without adversely affecting safety".
REVOLUTIONARY NEW AIRCRAFT
Lawmakers in Congress recently directed the US Department of Transportation to establish an AAM working group focused on safely integrating novel aircraft into the national airspace system.
"AAM is an umbrella term for an air transportation system that moves people and cargo using revolutionary new aircraft," the FAA says. New rules are necessary because many AAM concepts "take-off and land like a helicopter…. while being able to fly like an airplane during cruise flight".
The FAA defines powered-lift as aircraft as being "capable of vertical take-off, vertical landing and low-speed flight that depends principally on engine-driven lift devices or engine thrust for lift…. and on non-rotating air foils for lift during horizontal flight".
Its initial operating rules for AAM would apply temporarily as the FAA gathers information to determine the "best permanent rule-making path for these aircraft". The rules are designed to give the emerging industry and prospective AAM pilots more certainty about what will be required to operate eVTOLs.
Aviation regulators are not proposing new requirements for type-certification of eVTOLs, determining that existing requirements are sufficient for the aircraft to be certificated as a special class of powered-lift vehicles.
The FAA is proposing changes to pilot certification for AAM vehicles, as "existing regulations did not anticipate the diversity in design of the powered-lift vehicles beginning to work through the certification process".
It also proposes that pilots must hold ratings for each type of powered-lift vehicle they fly. "Because each powered-lift [aircraft] can have different configurations, unique inceptors, diversified flight controls and complicated and distinctive operating characteristics, the FAA has determined that, unlike airplanes and rotorcraft, it is not feasible to establish classes within the powered-lift category at this time," the agency says.
Training enough flight instructors to support the industry as it gets off the ground is another issue addressed in the proposed rules. "There will be an insufficient number of qualified flight instructors to provide training to the pilots who will need to obtain certificates and ratings necessary to serve in powered-lift operations," the FAA says.
To that end, the regulator proposes forming an "initial cadre of instructors" composed of pilots employed by eVTOL manufacturers to obtain necessary training during test flights and aircraft certification.
Alternate pilot requirements proposed by the FAA would expand the opportunity for pilots to obtain powered-lift ratings at the commercial pilot certificate level through Part 135 training programmes. Most of the alternate requirements would be available only to pilots who already hold a commercial pilot certificate.