The Federal Aviation Administration is leading what its chief regulator calls a global effort to ensure the world's airline pilots have adequate manual flying skills and sufficient training in "flight path management".
As part of that "human factors" focus, FAA administrator Steve Dickson also says future FAA aircraft certifications will rely partly on validations involving non-US pilots with varying experience and training.
"Some of these issues have not gotten the attention they need… Issues around manual flying skills," Dickson tells lawmakers during a 3 November Senate hearing. "We are leading the efforts on flight path management and use of automation."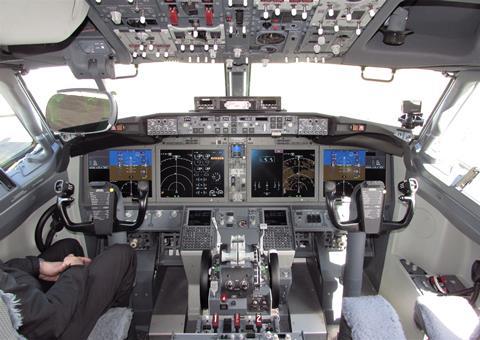 Dickson's comments address a long-simmering issue that gained salience following two 737 Max crashes – one in 2018, the other in 2019 – that killed 346 people.
Investigators attributed the crashes to errant activation of the Max's flight-control system, corresponding flight control difficulties and multiple cockpit alerts that likely confused the pilots. Aviation safety experts noted notable missteps in how the pilots responded to the alerts.
Dickson says the FAA has written a draft "advisory circular" addressing manual flying skills, information management by pilots and "air carrier training programmes for flight path management".
"Flight path management is at the core of the concern that I have," he adds, noting the circular was written by the FAA's "chief scientist for human factors".
The FAA declined to provide the document to FlightGlobal, saying it will be released when finalised.
The agency and counterparts from Canada, Peru and Trinidad and Tobago brought concerns about pilot training to global aviation standards group ICAO in 2019. In a paper to ICAO, the countries warned that pilots may lack flying skills needed for situations involving automation failure. It said ICAO's training standards inadequately addressed "degradation of manual flight operations skills" and called on ICAO to define the problem and issue corrective recommendations.
In addition to its work with ICAO, the FAA will "help regulators around the world implement these principles into their oversight and crew training programmes", Dickson tells lawmakers. "That will be an effort that we will undertake… in the coming years."
He also says the FAA, in certificating new aircraft, will consider the skills of pilots from outside the USA – an approach the FAA took as part of lifting the Max's grounding
"In the certification process, we will require, going forward – as we did with the 737 Max – the use of international pilots of various experience levels and training backgrounds to help with the validation of the operational testing on the aircraft," Dickson says.