The Federal Aviation Administration is requiring US airlines to inspect Boeing 787s for potential cracking of some structural joints.
The agency proposed the inspections in May and has now finalised them in two airworthiness directives (ADs) made public on 3 December.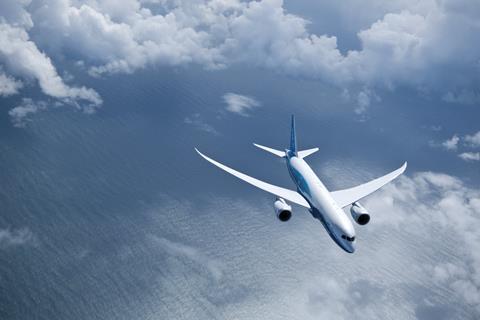 The orders were "prompted by reports that shimming requirements were not met during the assembly of certain structural joints, which can result in reduced fatigue thresholds" and cracking of some structural joints, the documents say.
"Fatigue cracking… could weaken primary structure so it cannot sustain limit load," they add.
One AD requires airlines to inspect "for cracking of certain areas of the aft wheel well bulkhead body chord and… side-fitting and fail-safe straps, and repair of any cracking found".
The other "requires repetitive inspections for cracking of certain areas of the front spar pickle fork and front spar outer chord, and repair".
The Chicago airframer says it "has determined that these are not immediate safety-of-flight issues".
"We had previously issued inspection guidance to our customers on these items, and fully support the FAA's airworthiness directive making that guidance mandatory," Boeing adds.
The company issued the inspection guidance in 2020 service bulletins. Those bulletins outlined procedures for completing high-frequency eddy current inspections.
The two orders take effect on 10 January and apply to 79 US-registered 787s. The total US fleet of in-service and in-storage 787s stands at 114 aircraft, according to Cirium fleets data.
Boeing's deliveries of 787s remain halted due to quality and production issues, including those related to gaps and skin flatness between fuselage sections that fail to meet precise tolerances, Boeing has said. Shimming is one method of addressing skin-flatness problems.
The FAA in July said a "system-wide inspection of Boeing's 787 shimming processes" was underway.
Boeing has also said it initiated a broad quality review of the 787 programme.
Story corrected on 6 December to note that the ADs take effect on 10 January, not in 36 days.