The Federal Aviation Administration plans to require US airlines to install flight-control software updates to 787s in response to issues with the jets' instrument landing systems.
The move builds on an FAA order from 2021 that followed incidents involving 787 pilots experienced difficulty during localiser approaches to Hong Kong.
That issue involved failure of the 787s systems to "transition to the instrument landing system localiser".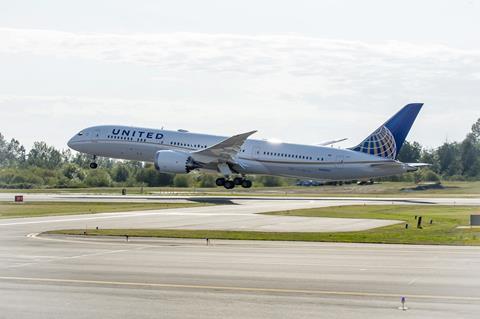 That 2021 order required pilots to follow special procedures to avoid accidents during localiser-based approaches. In the meantime, Boeing was to develop a software fix.
Since then, however, the FAA has learned of another issue affecting 787s during instrument approaches, according to the newly proposed rule, released on 28 June.
"In certain scenarios, misleading [flight director] guidance can be presented to the flight crew during approach," the FAA's proposal says.
The error can occur after pilots disengage "the autopilot due to a 'mode fail' caused by glideslope-beam anomaly during instrument landing system (ILS) approach", it adds.
The FAA says Boeing has now developed updated software for the 787's flight-control module. The updates fix both issues: the localiser-capture problem and the erroneous flight-director guidance.
The agency's proposal would require airlines to update jets with the new software.
FAA documents do not reveal specifics about instances of 787 instrument-landing problems.
However, several 787s experienced issues when landing in Hong Kong in recent years. In September 2019, an Etihad 787-9 deviated from the localiser while landing, and in April 2020 pilots of an Air Canada 787-9 experienced a localiser issue, prompting a warning to 787 operators from Hong Kong authorities about 787 autopilot issues.