The US Federal Aviation Administration is urging pilots and other airline workers to review safety protocols to prevent aircraft collisions during take-offs and landings.
The agency addressed the risk in a 22 March safety bulletin that responds to a string of recent close calls at US airports.
"Several highly visible and notable recent events demonstrate the need for continued vigilance and attention to mitigation of safety risk," says the FAA in a Safety Alert for Operators. "While the overall numbers do not reflect an increase in incidents and occurrences, the potential severity of these events is concerning."
The document urges airlines to ensure pilots are aware of recent near-misses, including six "serious runway incursions" since January.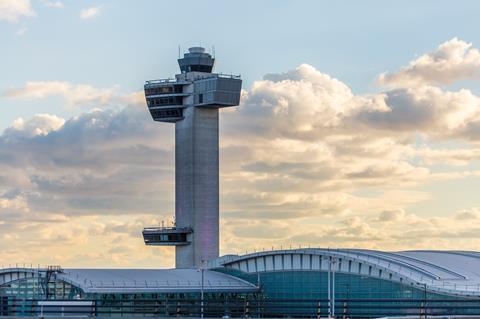 Airlines should "reinforce adherence to published processes and procedures", including those related to cockpit checklists and air traffic control instructions.
They should also "ensure pilots and flight attendants have the same understanding of what 'sterile flight deck' means, and [of] the risks associated with extraneous communication during this time", the FAA's memo adds.
US "sterile flight deck" regulations prohibit pilots from engaging in distracting activities during critical flight phases.
The FAA's safety bulletin also urges pilots to "diligently follow crew resource management procedures" and to review previous FAA notices related to airport and runway safety.
The agency directs its 22 March notice to pilots and to airline heads of operations, safety and training.
The memo cites two recent close calls – one on 13 January at New York's John F Kennedy International airport and another on 4 February at Austin-Bergstrom International.
The JFK incident involved "a taxiing aircraft narrowly avoiding a departing aircraft", the notice says. Specifically, an American Airlines Boeing 777 wrongly crossed a JFK runway, prompting pilots of a Delta Air Lines' 737 to reject their take off, officials have said.
The Austin incident involved "a landing aircraft coming within 100ft of a departing aircraft", the memo says. The jet landing – a FedEx 767 – broke off its approach to avoid a Southwest Airlines 737, which was taking off.
Other airport safety incidents involving commercial jets this year have included those in Boston and Sarasota, Florida.
The FAA's safety notice comes one week after the agency, in response to those incidents, hosted a "safety summit" aimed at identifying air safety improvements.
Following that summit, the FAA said it is crafting a rule that will require aircraft cockpit voice recorders to capture 25h of audio, up from 2h. That move followed news that, following the January JFK incident, pilots of the American jet took off and flew to London, leaving investigators without access to relevant cockpit audio recordings.