The FAA is warning unruly passengers that it will not tolerate violent or harassing behaviour on board aircraft following numerous incidents on flights to and from Washington, DC last week.
The US aviation regulator says on 13 January that it has seen "a disturbing increase" in disruptions to flights in the past weeks. This is a result of passengers unhappy that they are required by most US carriers to wear facial coverings in order to mitigate the spread of the coronavirus, as well as last week's riot at the US Capitol.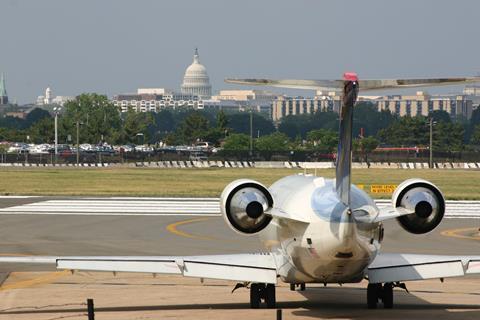 FAA Administrator Steve Dickson has signed an order that enforces a more stringent policy against passengers who create a disturbance on aircraft that could lead to a safety hazard for aircraft, crew or other customers.
"Effective immediately… the FAA will not address these cases with warnings or counselling," the FAA says. "The agency will pursue legal enforcement action against any passenger who assaults, threatens, intimidates, or interferes with airline crew members. This policy will be in effect through March 30, 2021."
"Flying is the safest mode of transportation and I signed this order to keep it that way," Dickson says.
The agency says that passengers who exhibit dangerous behaviour that may include interfering with, physically assaulting, or threatening to physically assault crew or anyone else inside an aircraft will face a fine of up to $35,000 and a jail term.
The order comes a week after a pro-Trump mob stormed the US Capitol building, located in the centre of Washington, DC, as the US legislature was set to confirm the election of Joe Biden as the country's next president. The rioters broke into the building, violently disrupted the proceedings and left garbage and destruction in their wake. Five people died. Congress reconvened later that day and certified the election results early on the morning of 7 January.
Prior to the melee, images and film footage published on social media showed crowds of pro-Trump fanatics creating disturbances at airports and in aircraft while underway to the US capital.
One video showed Republican US Senator Mitt Romney, who has broken with President Donald Trump on several political issues, being verbally assaulted as he was waiting to board a flight to Washington, and again heckled on board the aircraft.
Following the riot, some airlines temporarily stopped serving alcohol on flights to and from Washington, DC-area airports in an attempt to prevent further trouble.
US lawmakers had appealed to the FAA earlier this week, asking it to coordinate with airlines, the Federal Bureau of Investigation (FBI) and the Transportation Security Administration (TSA) and tighten its rules ahead of the inauguration of Biden, due to take place on 20 January.