A new report from the US Department of Transportation's Office of the Inspector General (OIG) concludes that the Federal Aviation Administration's air traffic controller shortage is a risk that must be addressed promptly.
The report, published on 21 June, said the Covid-19 pandemic impacted the regulator's ability to maintain "the required number of controllers" at numerous US facilities. It recommends means of alleviating bottlenecks that have caused flight delays and cancellations.
"While the United States has one of the safest air traffic systems in the world, the lack of fully certified controllers, operational supervisors and traffic management coordinators pose a potential risk to air traffic operations," the report reads. "FAA has developed a process for allocating controller staff but has not revised its [certified controller] staffing levels."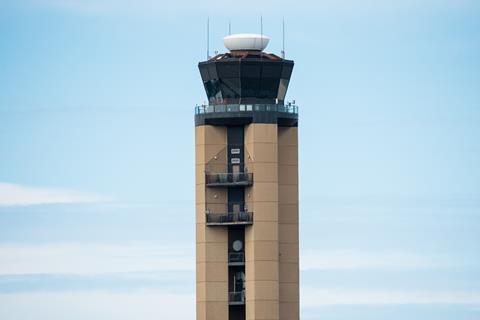 "As air traffic operations return to pre-pandemic levels, a consistent staffing approach and oversight of training will place the agency in the best position to prevent disruptions to air traffic operations," the report concludes.
In March 2022, 20 of 26 critical air traffic control (ATC) facilities – more than two-thirds – were staffed below an 85% staffing threshold agreed to by the FAA and air traffic controller union NATCA in 2014, the report says. That means the majority of control centres across the nation – including busy facilities overseeing Miami, Dallas-Fort Worth, Atlanta and Chicago – are operating with far fewer controllers than nominally necessary.
The FAA and US airlines have recently been sparring about factors that have contributed to operational meltdowns in some of the busiest US airspace.
The troubles mark another episode in a post-pandemic air-travel era defined largely by airlines' inability to fly their schedules. Earlier this year, the FAA permitted carriers to trim their schedules at New York-area airports without requiring them to return slots, or suffer any other long-term consequences. The regulator aimed to head off issues before they happened. However, data shows airlines made only minor tweaks.
Delays and cancellations are currently widespread.
On 26 June, airlines scrapped 40% of their flights to and from New York LaGuardia airport, 35% of flights at Newark Liberty International airport, where United Airlines has its biggest East Coast hub, and 15% of flights at John F Kennedy International, where JetBlue Airways and Delta Air Lines have sizeable presences.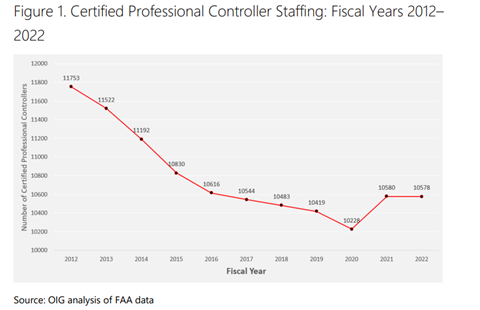 NATCA responded to the OIG report by blasting the FAA.
"There are currently 1,200 fewer fully certified controllers today compared to ten years ago," NATCA president Rich Santa says. "FAA's flawed staffing model and inconsistent hiring has resulted in new hires not keeping pace with attrition over the past decade. The status quo is no longer sustainable."
To address its issues, the OIG report urges the FAA to complete a "comprehensive review of the model for distribution of certified professional controllers… and update interim staffing levels as necessary". It also recommends that the FAA implement a new "labour distribution system that includes features such as timekeeping, overtime and controller-in-charge tracking, and real-time leave balances".
The FAA agrees with these recommendations.
"The FAA fully understands that adequate staffing at its critical facilities helps ensure the safety and efficiency of the National Airspace System and is committed to getting to adequate staffing levels," the regulator said in comments included in the report. "We plan to complete both recommendations by September 30."
The regulator did not immediately respond to a request for additional comment.