A new Federal Aviation Administration order targeting earlier-generation 737s – including 737NGs – reveals that 5G interference might affect other aircraft systems, potentially even causing false landing gear indications.
The FAA has in recent months issued a several airworthiness directives (AD) addressing the risk that new 5G cellular transmissions might interfere with aircraft radio altimeters.
The orders are specific to various aircraft types.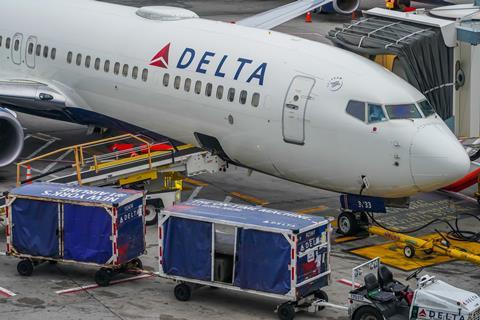 The latest AD affects 2,442 737s with US registry, from the first-generation 737-100 through all 737NGs versions – excepting some jets with particular flight control systems. It does not affect 737 Max; the FAA issued a separate 5G-related Max AD last month.
Like the previous related orders, the latest says 5G could affect aircraft auto-throttles, speed brakes, ground proximity warning systems and traffic alert and collision avoidance systems.
But it highlights several other potential impacts to various 737 systems.
For instance, 5G interference could cause "erroneous illumination of the red landing gear indicator lights," and an "erroneous steady landing gear warning horn", the order says.
Additionally, the jets' autopilots may not engage, or they might disconnect during instrument approaches. "The flight directors may provide erroneous guidance during ILS approach", and "runway alignment may not occur or may activate earlier or later than expected", the order says.
Interference could also cause several other cockpit indications to not display, including radio altimeter indications, the "rising runway symbol" and some localiser and glideslope alerts.
"These effects may cause erroneous indications and annunciations, as well as conflicting information, to be provided to the flight crew during a critical phase of flight," says the FAA's order. "There may also be a lack of cues present to elicit prompt go-around or recovery initiation."
The order requires operators to update aircraft flight manuals with new landing procedures. Those procedures call for pilots, when making some instrument approaches, to execute go-arounds under various conditions. Such conditions include when flight directors are not visible, when the aircraft enters "flare mode prematurely" or when the auto-throttle prematurely reduces thrust to idle.
The order notes that, during go-arounds, the jets' autopilots and TOGO (take-off/go-around) modes may be unavailable.
The FAA's orders apply to landings at airports where the FAA has determined 5G interference is possible. Two US wireless companies starting using the new frequencies on 18 January.
"We support the Airworthiness Directive, as it mandates the same guidance that Boeing provided to operators back in January," Boeing says.