Indonesia's safety agency has underlined the risks of high air traffic control (ATC) workload after an air proximity incident between two Citilink Indonesia aircraft.
The incident came about as two Citilink Airbus A320s (PK-GLH/3147 & PK-GTA/7466) converged on Surabaya's Juanda International Airport in darkness conditions around 18:20 on 17 January 2018, says the National Transportation Safety Committee (NTSC) in its final report into the incident, which it designates as serious.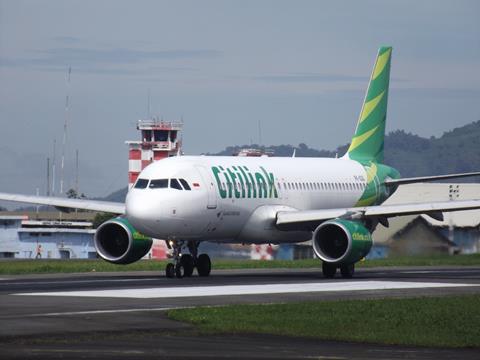 PK-GLH had departed from Pontianak's Supadio International Airport and PK-GTA from Balikpapan's Muhammad Sulaiman's International Airport. Both aircraft carried six crew and 180 passengers.
An air traffic controller, who at the time was handling five aircraft, assigned both aircraft to hold over waypoint EMARA at 20,000ft.
At 18:31, the horizontal separation between the two aircraft was 5nm, with negligible vertical separation. One of the pilots notified ATC of a TCAS (Traffic Collision Avoidance System) alert.
The controller immediately deconflicted the aircraft. The flights continued uneventfully and there were no injuries.
NTSC indicates that the controller had over 15 years of experience. On the day of the incident, he had been on duty for nearly two hours and provided ATC service for more than 10 aircraft. In addition, two colleagues - an assistant and the watch supervisor - were unaware of the potential conflict between the aircraft. NTSC suggests that fatigue may have played a role in the incident.
"The Fatigue Management Guide for Air Traffic Service Providers described that fatigue management relies on identification of fatigue hazards and effective safety reporting," says NTSC.
"The issues associated with fatigue would be difficult to detect if people are unwilling or unable to report them. Therefore, it must be acceptable to raise legitimate issues about fatigue without fear of retribution or punishment from both within and outside organisation."
Following the incident, the Directorate General of Civil Aviation reminded those involved to improve awareness while on duty.
Moreover, AirNav Indonesia's Surabaya branch adjusted the role of the watch supervisor to provide more support during high workload situations, and ensure the Short-Term Conflict Alert (STCA) is functioning - on the day of the incident, STCA was not functioning owing to a technical issue.