A malfunction in the pitot-static system of a Malaysia Airlines Boeing 737-800 is likely to have led to a "technical issue" which saw the aircraft pitch up and subsequently lose altitude.
In a statement into the 3 April incident, the Civil Aviation Authority of Malaysia (CAAM) says preliminary investigations show the aircraft's (9M-MLS/MSN3933) pitot-static heating system failed, causing a build-up of ice in the tube.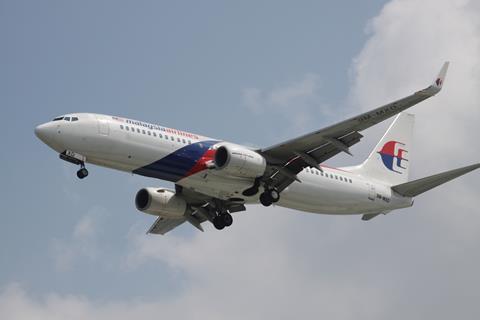 The malfunction led to incorrect speed indications, which caused the aircraft - operating flight MH2664 from Kuala Lumpur to Tawau in east Malaysia - to pitch up and deactivate the autopilot.
Recognising what had happened, the pilot-in-command then attempted to regain control of the aircraft.
"During this manoeuvre, safety data showed an abrupt input from the pilot during attempts to regain control. However, these manoeuvres resulted in pitch and altitude changes that correspond with the pilot's report and passengers' experience on board," the CAAM says.
"These corrective manoeuvres were compounded by bad weather which created passenger discomfort in the cabin," the agency adds.
Reports on the incident cite passengers as feeling like the aircraft "dived sharply" in seconds, though the CAAM has not explicitly confirmed it. The aircraft subsequently returned to Kuala Lumpur and landed safely.
The aircraft has been grounded since the incident, pending technical analysis from Boeing.
While further investigations are underway, the CAAM says it has instructed Malaysia Airlines to implement a series of safety measures, including reviewing the type's reliability reports "to focus on similar faults reported for recorded in-flight issues", as well as inspecting the pitot-static system across the airline's 737 fleet.
Cirium fleets data shows that Malaysia Airlines took delivery of the aircraft in 2013. The airline has a fleet of 41 in-service 737-800s.