A FedEx Boeing 757 Freighter made a gear-up landing and skidded off the runway at Chattanooga Metropolitan airport in Tennessee late on 4 October.
The 757-200 Special Freighter (registration N977FD) had been operating FedEx flight 1376 from Chattanooga to Memphis. It took off at 22:24 local time and returned to Chattanooga about 1h 20min later, screaming down the runway on its belly amid a rush of sparks, according to various sources.
Three people were aboard the jet, according to the Federal Aviation Administration, which is investigating. So too is the National Transportation Safety Board (NTSB).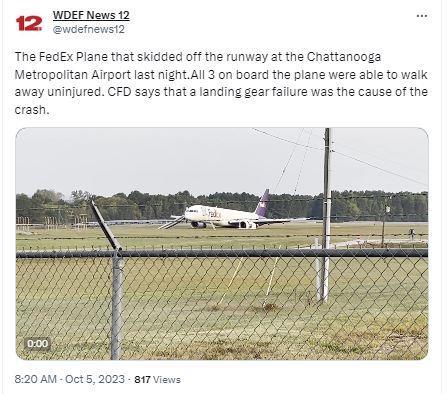 FedEx says its crew are "safe" but neither the shipping company nor other sources immediately confirm if anyone was injured during the incident.
"FedEx flight 1376 landed with its gear up and slid into the grass at Chattanooga Metropolitan airport in Tennessee around 11:45pm local time" on 4 October, says the FAA.
After touching down, the aircraft skidded along the runway leaving a trail of sparks, according to video posted on X, the site formerly called Twitter.
The jet came to rest on grass, with its tail down and its nose elevated, photographs posted to X show.
FedEx says the 757's pilots "experienced an issue just after take-off on Wednesday evening". The company refers additional inquiries to the NTSB.
The safety investigatory agency tells FlightGlobal little information is available so soon after the incident.
"An NTSB investigator is expected arrive on scene today to begin to document the scene, examine the aircraft, request any air traffic communications [and] weather information," the NTSB says. The investigator will also attempt to secure the flight-data and cockpit-voice recorders, speak to witnesses and "request maintenance records of the aircraft, and medical records and flight history of the pilot."
A recording of communications between the 757's pilots and an air traffic controller indicates the crew faced technical trouble shortly after getting airborne.
"We are working a minor issue," one of the pilots said, before mentioning a flight-control problem, according to a recording available at LiveATC.net. The pilot then says, "We are getting an unsafe gear indication".
The pilot declared an emergency and said the crew were attempting an "alternative gear extension". The pilots then flew the jet low over the airport so controllers could visually confirm if the gear were extended.
"There appeared not to be landing gear observed," a controller told the pilots.
Boeing produced the 757 in 1988 and FedEx acquired it in 2013, according to Cirium fleets data.