Flight instructors fear a recent US court ruling could cause major headaches for the pilot-training community, just as airlines begin to again warn of a pilot shortage in the coming years.
In a 2 April ruling, a US court threw into question how paid flight instruction is characterised under regulations, raising concern among flight instructors that they might need to meet more stringent standards in order to operate, according to aviation lobby group Aircraft Owners and Pilots Association (AOPA).
Such instruction serves as a main route by which commercial pilots acquire primary flight training.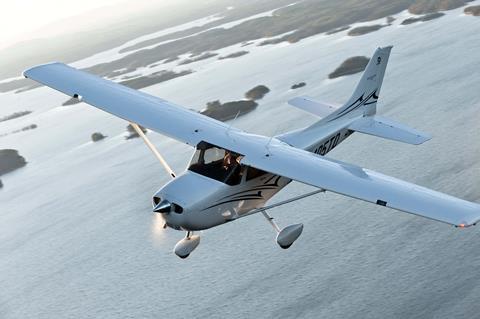 While the ruling addresses only one company's flight-school operation and applies to one category of aircraft, flight instructors worry the court's broad interpretation of one regulation could impact their livelihoods more generally.
"This a slippery slope, where other types of instruction might be impacted," says John Ewing, a part-time flight instructor in northern California. "There is a lot of uncertainty in the world of flight instruction to begin with, and…when the instructional community sees something that can create another problem, they're already pretty stressed, and it makes them concerned."
The issue involves regulation interpretation, AOPA general counsel Justine Harrison says. The court's ruling did not take the entirety of rules governing aviation training into account, and is at odds with some of them.
"They made their decision involving one regulation," she says. "But then they went on and used broader language… that is raising questions and concerns."
In a letter to the Federal Aviation Administration dated 19 April, AOPA said the ruling "has created significant confusion and concern in the aviation community regarding the impact of the decision on compensated flight training".
"Language in the ruling… could restrict access to flight training and negatively affect air safety in the United States," the letter adds.
WARBIRD ADVENTURES VS FAA
The case arose more than a year ago when the FAA ordered Kissimmee, Florida-based Warbird Adventures, which describes itself as a "vintage flight school and air museum", to stop providing flight instruction for compensation using its World War II-era military Curtiss-Wright model P-40N aircraft.
The US regulator said the company was violating a rule prohibiting instructional flights for compensation in "limited category aircraft" like the P-40N. It told the company it must apply for an exemption to the rule.
Warbird Adventures repeatedly declined to apply for an exemption, and in July 2020 the FAA slapped the company with an emergency cease-and-desist order.
Warbird Adventures took the dispute to the US Court of Appeals for the District of Columbia, requesting a review of the FAA's order. The court denied the review.
"Warbird's P-40N is a limited category aircraft," the ruling said. "Although the owner of a limited category aircraft can sometimes obtain an exemption … Warbird has not requested one."
The decision was cut and dry for Warbird Adventures, but the court's language opened fresh questions for other flight schools.
The ruling noted that regulations prohibit operation of "limited category civil aircraft carrying persons or property for compensation or hire".
"A flight student is a 'person,'" the ruling said. "When a student is learning to fly in an airplane, the student is [carried]. And when the student is paying for the instruction, the student is being carried 'for compensation.'"
Much of the flight-training industry's concern stems from that last phrase – "the student is being carried 'for compensation'". The reason: the FAA has historically considered flight training as exempt from rules applying to commercial fights for compensation. The court's wording seems to suggest flight training does actually involve carrying a person "for compensation".
That has spurred concern that flight schools and independent instructors, in addition to being qualified to teach, might need different certifications and medical licenses – potentially a bureaucratic, time-consuming and cost-prohibitive process, flight instructors say.
AOPA insists the ruling does not mean flight training operations must be certificated under so-called Part 135 rules, which govern commercial aviation operations. A separate set of regulations – Part 119 – "specifically exempts 'student instruction' and 'training' from certificate requirements", the group says in a 14 May blog post.
But if the ruling stands as is, "it could have some broader potential downstream implications" that could have a significant negative effect on pilot supply, Harrison says.
"That language is in direct conflict with the FAA's own policy over the years," she adds.
'OUTLAWS'
The court ruling is making flight instructors uneasy. And after a year of coronavirus mitigation measures which included lockdowns that caused some flight schools to temporarily close, instructors are worried about another potential disruption – and a bottleneck in the pilot pipeline.
"There are quite a few flight instructors out there who are joking that, 'Well, they made us all outlaws overnight. So, I guess we'll be outlaws now,'" says Alexander Boy, a flight instructor in Nevada.
"If an aviation safety inspector showed up at the school tomorrow and wanted to pursue action against us, he essentially has the precedent to do so already," he adds.
If they were to need a Part 135 certificate of carriage, schools would need to meet a variety of more stringent maintenance and operational requirements, and would be subject to closer oversight by the FAA's Flight Standards District Office, Ewing says.
"It's not a trivial undertaking, that's for sure," he adds.
"If you have a small school with only a couple of airplanes, it's unlikely you'd be able to afford to get the certificate and to be able to comply with the regulations to keep it," Boy concurs.
The FAA says on 14 May it is "reviewing the matter", but does not say if or when it might issue a clarification.
Until then, flight instructors remain anxious.
"People are waiting for the second shoe to drop," says Ewing. "This has the potential to impact the livelihood and income of a lot of people in an industry that is already and has for years been under stress. So, this is not a move in a positive direction."
"We're hoping whatever clarification we can get comes quickly," Boy adds.
Story updated on 18 May to specify that the court decision applies to only one category of aircraft, to note that AOPA insists flight schools do not now need Part 135 certificates, and to include additional details.