Two former FAA administrators are calling on the US government to overhaul training requirements for airline pilots amid a shortage of flight deck professionals that threatens to hinder the industry's growth for years to come.
In an 18 April letter to leaders of the House of Representatives' Transportation and Infrastructure committee, Randy Babbitt and Dan Elwell say the current training regimen for airline pilots in the USA is outdated and needs to be reassessed. Their comments come ahead of a congressional hearing about Federal Aviation Administration reauthorisation and the aviation industry workforce, set for 19 April.
"The US pilot training paradigm is flipped from where it should be," they write. "Today's approach maximises 'simple flight hours' but allows minimal credit for the use of advanced simulator and ground training devices; we strongly believe it should be the other way around."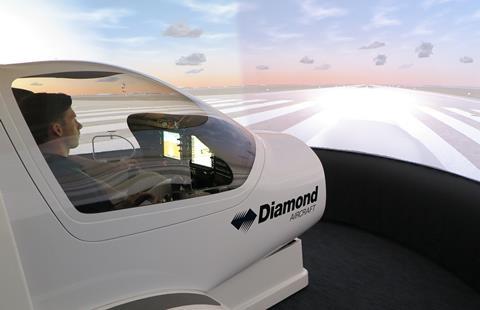 Currently, most prospective airline pilots in the USA must log 1,500h of total flight time before they are eligible to apply for a job piloting commercial aircraft – about six times more hours than their colleagues in other countries. There are few regulations, however, about what kind of flying pilots do to collect those hours.
The pilot experience rule rule – a response to the deadly 2009 crash of a Colgan Air turboprop – does have some exemptions: military pilots can take airline jobs with 750h, and graduates of university aviation programmes can do so with 1,000h or 1,250h.
Many pilots who do not fall into those categories work as flight instructors in single-engine piston aircraft – a far cry from the complex technology of multi-engine jets they would later fly for airlines. In addition, such candidates rarely experience the difficult weather conditions that they could face in commercial-jet cockpits.
That kind of aviation experience is of little use as a measure of proficiency and safety, Babbitt and Elwell say. They argue the FAA should allow pilot candidates to use modern simulator technology to fill in knowledge and skills gaps.
"Because of regulations written decades before the incredible advances in full-motion high-fidelity simulators, and advanced training devices, pilots are restricted from logging more than about 7% of their [air transport pilot]-qualifying time in simulators," they say. "As a result, most pilots accumulate over 75% of their airline-qualifying flight hours outside of a curriculum and monitored environment."
The regulatory environment is long overdue for a "refresh" with "additional structured training programmes", they write.
"An updated training model would also allow flight schools to continuously adapt to new advancements in aircraft technology and training techniques," the letter reads. "Experience tells us that an updated model should increase, rather than limit, time spent in modern simulators that expose trainees to emergency scenarios and hostile weather events like icing and thunderstorms – too dangerous to learn or practice in the air."
In addition to producing better-trained pilots, a shift in the regulatory framework encouraging use of simulators would also support a greater diversity in the pilot population, as it promises to make flight training less of a financial burden, the former FAA chiefs say. Currently, it can cost pilots $100,000 or more to achieve all certificates and ratings needed to reach about 250h of flight time.
A third advantage would be a smaller carbon footprint, due to less single-engine piston flying, Elwell and Babbitt add.
Airlines across the USA are dealing with a massive pilot shortage that has hit smaller regional carriers hardest, prompting airlines to cut flying and leaving some smaller US cities without air service.