A fresh round of data analysis has failed to locate the remains of Malaysia Airlines flight MH370 on the bottom of the Indian Ocean.
According to the Australian Transport Safety Bureau (ATSB), the review covered an area of 4,900km², and used high-resolution sonar datasets generated during the original search for the lost Boeing 777-200ER (9M-MRO), which disappeared on 14 March 2014 while operating a Kuala Lumpur-Beijing service.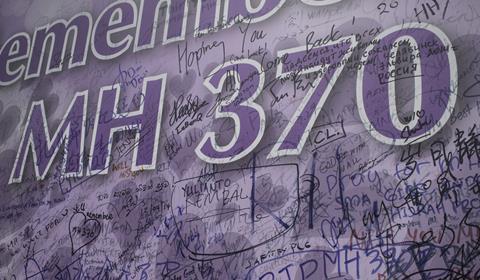 Aircraft debris was retrieved from the coastlines of eastern Africa, Madagascar, Reunion, and Mauritius, but extensive searches of the seabed failed to turn up any sign of the aircraft, which vanished with 227 passengers and 12 crew.
ATSB had asked Geoscience Australia to conduct the review following an analysis put forward by aerospace engineer Richard Godfrey.
Using Weak Signal Propagation Reporter data and other data sets, in late 2021 he proposed a crash location at 33.177°S 95.3°E – a location covered by the original underwater searches for the aircraft.
"Review of the existing data within a 40nm [74km] radius from this location determined that it is highly unlikely that there is an aircraft debris field within the area reviewed," says the ATSB.
"Geoscience Australia identified 11 contact sites not analysed during the original search. However, an independent external review of these contacts by an expert in deep-water search and salvage operations…determined that none of the contacts were likely from an aircraft debris field."
It acknowledges, however, that there are "significant regions" beyond the 10nm radius of Godfrey's proposed location for which there is no data, data of insufficient resolution, or data held by Ocean Infinity, which searched the area in 2018 under a Malaysian government contract.
The GeoSciences Australia analysis took two months. "This data allowed us to detect objects as small as 30cm by 30cm," says GeoSciences chief executive James Johnson.
"If the aircraft was within the area we have reviewed, the sonar data would have shown a scatter field of highly reflective debris."  
Safety officials ascertained the general search area for MH370 using data from ground-to-air satellite transmissions.