The omission of a waypoint in the flight management system saw an Atlas Air Boeing 747-8F turn right shortly after taking off from Hong Kong International Airport, heading toward high ground on Lantau Island.
The serious incident occurred on 24 September 2017 when the freighter (N856GT, MSN 37561) took off from Runway 07R at 23:44hrs in fair weather conditions, according to the Hong Kong Air Accident Investigation Authority's (AAIA) final report into the incident.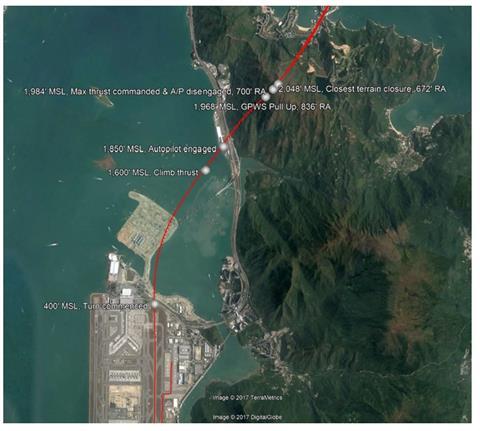 Immediately after takeoff, air traffic control notified the crew that the aircraft, bound for Anchorage, was off track, and that it needed to turn left.
"Shortly afterwards, air traffic control informed the flight crew of terrain to the right of the aircraft and instructed the crew to expedite the climb to 5,000ft above mean sea level (AMSL). At 2,000ft AMSL, however, the aircraft's grown proximity warning system was triggered, warning "Terrain, Terrain; Pull Up."
"In response, the pilot flying reacted and the aircraft climbed, overflying the terrain," says AAIA. "The aircraft evaded the high ground by approximately 670ft AGL [above ground level]."
Subsequently, the aircraft continued onwards to Alaska without further incident.
In its final report, the AAIA says that the crew, pressed for time and unfamiliar with certain nuances about Standard Instrument Departures for Hong Kong, omitted the correct initial waypoint, PORPA, and programmed PORSH as the first active waypoint after takeoff.
This saw the aircraft turning right immediately after takeoff, heading towards the high ground of Lo Fu, with an elevation of 1,527ft.
The aircraft was operating on a wet lease arrangement on behalf of Cathay Pacific Airways, under the flight number of CPA86.
There were four crew aboard the 747-8F: the pilot in command, two first officers, one of whom was a junior first officer unfamiliar with Hong Kong International Airport. Also aboard was a company captain who was unrated on the 747-8.
The AAIA suggests that crew inexperience with Hong Kong and a lack of crew communications may have contributed to the incident. The pilot-in-command had expected the more senior first officer to be the pilot monitoring from the co-pilot seat, but instead the junior first officer assumed the position of pilot monitor in the co-pilot seat. The PIC, however, did not challenge this change.
The incident resulted in several safety actions by Atlas Air, including updates by navigation aid provider Jeppesen to highlight threats and challenges departing Hong Kong. Crew must also read a bulletin outlining a prohibition against the modification of RNAV (are navigation) procedures, and follow other protocols.