Hong Kong authorities have opened an investigation into an aborted take-off involving a Cathay Pacific Boeing 777-300ER, which subsequently led to a fire in the aircraft's main landing gear.
In its preliminary investigation report into the 24 June incident, Hong Kong's Air Accident Investigation Authority (AAIA) says the rejected take-off, which occured at Hong Kong international airport, was likely caused by an airspeed indication discrepancy.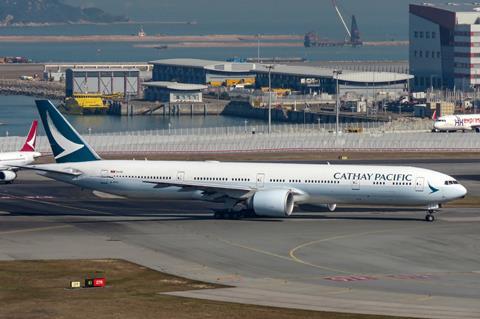 The aircraft (B-KPQ, MSN36162) rejected the take-off at 145kts, notes the AAIA. The 777 was operating flight CX880 from Hong Kong to Los Angeles and was carrying 293 passengers and 17 crew members.
Following the aborted take-off, the flight crew noticed that the temperature of the left and right main landing gear brakes were increasing as the aircraft taxied back to the terminal. They also noticed "progressive deflation" of the main landing gear tires.
"While waiting for the airbridge to connect to the aircraft, an explosive sound was heard and severe vibration were felt," the AAIA report states.
The left main landing gear had caught fire and passengers were evacuated from the aircraft. The AAIA notes that 11 passengers were injured while evacuating the aircraft, including two who had to be hospitalised.
The authority says its investigations will focus on "all relevant operational safety risks subsequent to the high speed [rejected take-off] of CX880, including the assessment of the escalating fire risk associated with the aircraft's main landing gear section, as well as other safety hazards that could pose risks to the ground support / maintenance personnel due to overheating brakes". It also will review Cathay's emergency procedures, including that of the crew members.
According to Cirium fleets data, the aircraft – powered by two GE90-115BL turbofans – was delivered to Cathay in 2010. It was stored in Alice Springs in Australia in 2020 at the height of the Covid-19 pandemic, and was returned to service in July 2022.