An incorrectly wired anti-skid braking system and an unfortunate decision by pilots resulted in a PenAir Saab 2000 running off an Alaska runway in October 2019, killing one passenger.
That is according to the National Transportation Safety Board (NTSB), which on 2 November released its conclusions about the accident.
"The brake system should have been designed to protect against human error during maintenance, the pilot shouldn't have landed on a runway with such a strong tailwind and federal regulators should have considered the runway safety area dimensions when authorising the airline to fly the Saab 2000 into that airport," NTSB chair Jennifer Homendy says.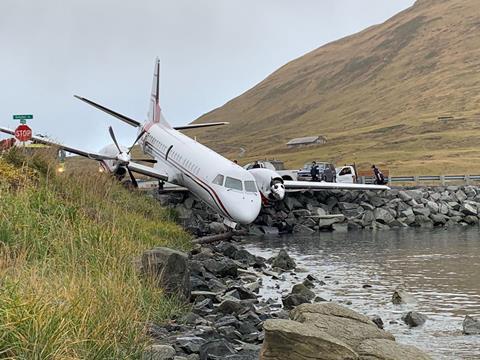 "Even though the airplane, the pilot, the weather and federal oversight all had a role in this tragedy, it was entirely preventable," she adds.
The incident involved PenAir flight 3296 from Anchorage to the western Alaska community of Unalaska, in the Aleutian Islands, on 17 October 2019. During approach to Unalaska airport's Runway 13, the pilots learned they were landing with a tailwind, which at that time exceeded Saab's specified 15kt (28km/h) tailwind limit for the turboprop.
Owing to that tailwind, the pilots would have been better served to land on Runway 31, the NTSB notes.
The captain's decision to continue with the landing on Runway 13 "was inappropriate and consistent with plan continuation bias, which is an unconscious cognitive bias to continue with an original plan despite changing conditions," says the NTSB's report.
The captain told investigators that, after touching down, the aircraft had "zero braking" despite application of maximum brakes.
The Saab "overran the end of the runway, passed through the airport perimeter fence, crossed a road and pitched down over shoreline rocks with its nose wheel in Dutch Harbor", the NTSB says. Of the 39 passengers aboard, eight suffered minor injuries, one suffered severe injuries and one was killed.
During its investigation, the NTSB determined that "the wire harness for the left main landing gear wheel speed transducers were incorrectly routed", leaving the anti-skid braking system "substantially compromised".
The problem resulted in the outboard wheel on the left main gear to lock up, but left no braking on the inboard wheels of both the left and right main gear.
The incorrect wiring likely occurred during an overhaul in January 2017, but the anti-skid system did not warn operators about the problem, says the NTSB.
Investigators cite Saab's design for failing "to consider and protect against human error during maintenance".
To prevent future similar accidents, the NTSB recommends that the FAA and EASA review safety assessments for landing gear systems to ensure such assessments address potential human error. The NTSB also recommends that Saab redesign the 2000's wheel speed transducer wire harness to prevent the possibility of anti-skid wiring mix ups.