The International Air Transport Association (IATA) has slammed North American aviation regulators for dragging their feet on increasing staffing at air traffic control (ATC) centres.
IATA director general Willie Walsh said on 19 July that the USA's Federal Aviation Administration and Canada's NAV Canada, the Canadian air navigation services provider, are "letting down airlines and the travelling public" as air traffic peaks to the highest levels since the global Covid-19 crisis.
"Over the past 12-18 months, airlines have responded to the very strong post-pandemic travel demand by adding tens of thousands of employees to their workforces," Walsh says. "US passenger airline employment is now at its highest level in over two decades. In contrast, ATC staff shortages in North America continue to produce unacceptable delays and disruptions for the travelling public on both sides of the border."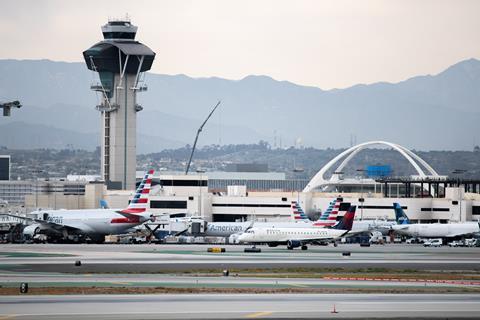 A recent report from the US Department of Transportation's Office of the Inspector General (OIG) concluded that the FAA's current air traffic controller shortage is a risk that must be addressed promptly. The report, published on 21 June, said the Covid-19 pandemic impacted the regulator's ability to maintain "the required number of controllers" at numerous US facilities. As a result, airlines and passengers have experienced thousands of delays and cancellations.
"The recent report… makes clear that the FAA has allowed the controller workforce to shrink to the point where it is challenged to maintain continuity of operations at the country's most-critical air traffic control facilities," Walsh says.
The report notes that in March 2022, 20 of 26 critical ATC facilities – more than two-thirds – were staffed below an 85% staffing threshold agreed to by the FAA and air traffic controller union NATCA in 2014. That means the majority of control centres across the nation – including busy facilities overseeing Miami, Dallas-Fort Worth, Atlanta and Chicago – are operating with far fewer controllers than nominally necessary.
"Poor ATC performance comes on top of the FAA and DOT requiring airlines to invest over $630 million to upgrade or replace fully certified onboard avionics equipment on thousands of aircraft to mitigate the risks of 5G roll-out near airports," Walsh adds. "This is unique to the US. The 5G roll-out in other parts of the world has not required anything like this of airlines."
"This double whammy of poor planning is exceptionally disappointing," he adds.
In Canada, meanwhile, the government has revised passenger rights legislation and placed more burden on airlines, "irrespective of the root cause of disruptions and delays", IATA says. This, Walsh says, is unfair, and accountability should lie "across the entire value chain", with airlines not specifically singled out. The new consumer rights rules are "costly and poorly thought-out".
"Ottawa and Washington, DC need to take ownership of the issues under their direct control and lead in resolving them," he adds.
Record demand for air travel coupled with unstable summer weather across parts of North America have created havoc for many travellers in recent weeks. Over the Independence Day (in the US) and Canada Day travel periods earlier this month, hundreds of thousands of travellers were stranded as airlines struggled to maintain their schedules and regulators throttled flight volumes.
Former acting FAA administrator Billy Nolen earlier this year promised the agency would hire up to 3,000 new air traffic controllers by the end of 2024, but fully training them may take up to five years.