Hong Kong investigators have found that the "inappropriate" use of autobrake mode of a China Eastern Airlines Airbus A321 – coupled with inclement weather – led to the aircraft veering off the runway after landing.
The aircraft (B-6366) was operating flight MU735 from Nanjing to Hong Kong on 24 May 2017 when the incident occurred. No injuries were reported among the nine crew members and 132 passengers.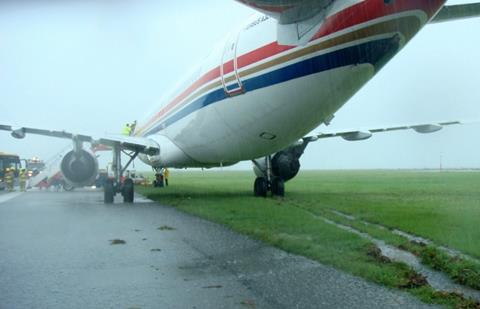 Hong Kong's Air Accident Investigation Authority (AAIA) states in its final investigation report that the weather at the time was heavy rain with poor visibility, leading the flightcrew to initiate a go-around on approach to runway 07L, before requesting a change to runway 25R.
The narrowbody landed on runway 25R at 10:49 local time, and was instructed to vacate via taxiway A4. However, the aircraft missed the taxiway and veered off the runway centreline into the grass area on the right side. Its nose wheel and right-hand main landing gear were on the grass area.
The AAIA found while the aircraft's landing airspeed and descent rate were normal, the autobrake mode was selected for long and dry runways.
Investigators note that during the go-around, the flightcrew "should [have been] aware that the runway was not dry". Furthermore, the aircraft landed long and only touched down about 230m (760ft) past the 458m aiming point marking, which reduced the time and distance available in which to decelerate.
The incorrect mode selection meant the aircraft's speed control was "ineffective to decelerate the aircraft" to exit via the designated taxiway. The AAIA also notes that the flightcrew "did not make the best use" of manual braking and reverse thrust to slow the aircraft.
"Moreover, the weather was inclement during the landing, and the directional control of the aircraft was affected by the lateral wind and standing water on the runway… at the last stage of the roll-out," investigators add.
On the AAIA's recommendations, Shanghai-based China Eastern has already updated with flightcrew training guidelines for landing in severe weather conditions.
According to Cirium fleets data, the aircraft (B-6366) was delivered to China Eastern in 2008, and is managed by lessor CALC. China Eastern currently has 65 in-service A321s in its fleet.