Indonesian officials have successfully downloaded data from the flight-data recorder (FDR) of the Sriwijaya Air Boeing 737-500 that crashed shortly after taking off from Jakarta.
The Indonesian National Transport Safety Committee was cited in a Reuters report as saying that the data extracted from the FDR — such as flight path, speed and engine condition — was "in good condition".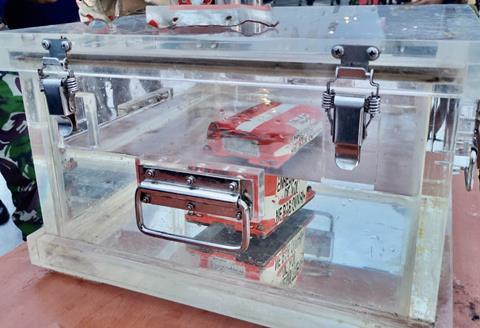 The latest update comes days after search personnel retrieved the FDR from the crash site, and comes amid an ongoing search for the stricken aircraft's cockpit-voice recorder (CVR).
Search and rescue operations were paused briefly amid adverse weather conditions, which hampered efforts to locate the CVR.
The NTSC is expected to release a preliminary investigation report into the incident within 30 days.
The 737, a former Continental Airlines jet registered PK-CLC, plunged into the Java Sea shortly after taking off from Jakarta for Pontianak on 9 January.
Indonesian authorities have disclosed that the aircraft was certified airworthy after emerging from a nine-month long storage in 2020.