Indonesia's National Transportation Safety Committee has opened investigations into a hard landing by a Garuda Indonesia Boeing 737-800.
The incident, which took place on 30 March, left scratches on the lower surface of the aircraft's aft fuselage, as well as on the runway surface, says the committee in a preliminary report.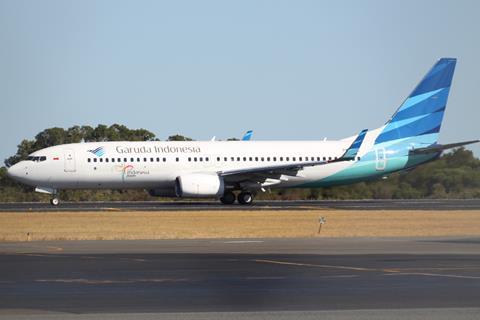 The 737 (registration PK-GMC) was operating flight GA867 from Bangkok to Jakarta, and was approaching Jakarta's Soekarno-Hatta International Airport when the incident occurred. It was carrying 76 passengers and eight crew members.
On final approach to the airport, the aircraft's autopilot and autothrottle disengaged and the pilot started manual flying.
At around 300ft, the pilot flying noticed the engine speed was at around 53% N1 level, and increased the throttle to about 57%.
While passing the runway threshold that the flight crew noticed alerts from the aircraft's enhanced ground-proximity warning system "sounded faster than normal".
The flight crew were reported to have felt "bouncing" during touchdown. The aircraft's second touchdown "felt…fairly harder", the report notes.
The aircraft subsequently parked at the airport, where inspections revealed scratches to the narrowbody's aft fuselage skin, as well as damage to the tailskid damper. The runway surface was also found to have scratches.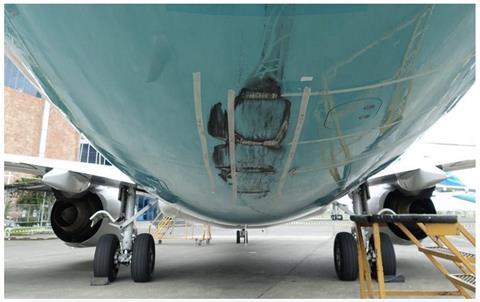 Investigations are still ongoing, says the committee, which has classified the incident as serious.
According to Cirium fleets data, the aircraft (MSN30155) was delivered to Garuda in 2009 and is managed by DAE Capital.