With many airlines and other aerospace companies pledging to drastically reduce carbon emissions, ramping up production and use of sustainable aviation fuel (SAF) is a major aspect of decarbonisation strategies.
An effort is underway to power aircraft entirely with synthetic and sustainably derived jet fuel. But before regulatory approvals are granted for the operational use of such fuels, the aviation industry needs to agree on a technical definition of SAF.
Sustainable components currently can be combined with conventional petroleum-based jet fuel in blends of up to 50% SAF. Now, the aviation industry is pursuing 100% SAF that is not blended with conventional jet fuel and can be used as a "drop-in" replacement for the most common jet fuels – Jet A and Jet A-1.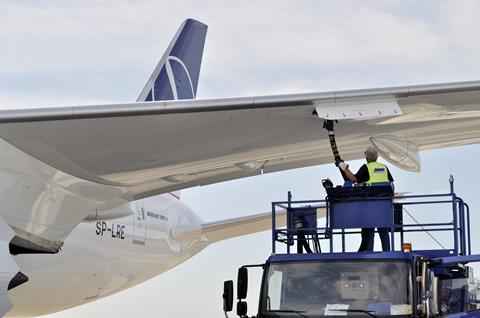 "Essentially every engine and airframe has already been certified for that fuel," Gurhan Andac, engineering leader for aviation fuels and additives at GE Aerospace, tells FlightGlobal. "That's where the significance of the drop-in concept comes in. If we have a more-sustainable option compared to petroleum jet [fuel], then you can directly introduce that into the field without impacting engine and airframe architecture."
The aviation industry is banking on widespread use of SAF to help meet an industry target to have "net-zero" carbon output by 2050. Governments are also behind the effort, but challenges, uncertainty and scepticism remain.
The high cost of SAF has prompted airlines to lean on their customers for help. For example, JetBlue Airways recently rolled out a partnership with climate tech company Chooose, which supports a platform that will allow customers to estimate the carbon emissions of their flights and contribute to a fund "dedicated to covering the cost premium of SAF as compared to conventional jet fuel", JetBlue said on 27 February.
A similar strategy has been adopted by United Airlines, which gives customers the opportunity to contribute to its Sustainable Flight Fund. "SAF is the most-scalable solution to decarbonise air travel," United says.
But SAF still makes up just a fraction of jet fuel used globally. JetBlue acknowledges "we still have a long way to go to achieve net-zero by 2050", saying SAF accounted for 0.3% of the fuel it burned in 2022.
While global SAF capacity is projected to increase fivefold in 2023, it will still account for just 1% of jet fuel consumption in 2023, ING researcher Coco Zhang told FlightGlobal in December 2022. Nearly 3% of jet fuel consumed globally will be SAF by 2026.
Andac has been with GE for 16 years, focusing mostly on synthetic aviation fuel. He has worked extensively on SAF assessment and standardisation, which occurs under the umbrella of ASTM International, an organisation that develops and publishes voluntary consensus technical standards. Through the process, industry players plan to establish a fuel definition qualifying synthetic fuel components.
Not all SAF is produced the same way, Andac explains. Seven SAF production pathways are currently qualified by ASTM International, with an eighth expected to be approved this year.
If such synthetic fuel is sustainably derived from sources such as corn grain, oil seeds, algae, fats, oils and greases, or agricultural and forestry residues, it is considered SAF. (In a recently launched European Union-funded project, a consortium is investigating conversion of agricultural manure and straw into SAF.)
But the availability of feedstock is another issue. A 2021 report from the International Council on Clean Transportation estimates "that there is a sufficient resource base to support approximately 3.4 million tonnes of advanced SAF production annually, or 5.5% of projected [European Union] jet fuel demand in 2030".
The industry has started with SAF blends – synthetically derived components blended with commercial jet fuel – which is available today.
"[With] some of them, you cannot use unblended at all, so there is variation of composition with the synthetic blending components," Andac says. "Because of such variance, the industry needs to standardise what 100% SAF is".
Research is underway to power aircraft entirely with 100% drop-in SAF.
In January, Emirates conducted Boeing 777-300ER ground tests using SAF. One of the jet's GE Aerospace GE90 engines burned 100% SAF, while the other burned conventional jet fuel. This allowed GE – along with partners Boeing, Honeywell Aerospace, Neste and biofuel maker Virent – to compare the fuels' performance. "Such an effort adds to the body of technical data that will help us develop that substantiation for going to 100% SAF," Andac says.
One approach to producing 100% SAF is blending multiple synthetic components from different SAF development pathways. The Emirates ground test, for example, used two SAF blending components – one paraffinic and the other aromatic – to create a Jet A/Jet A-1 equivalent drop-in fuel, Andac says. GE found technical value in the demonstration, but the test was also designed to demonstrate the viability of SAF to the public.
On 30 January, Emirates got its SAF tests off the ground, flying a 777 with one turbofan burning 100% SAF. "Such initiatives are critical contributors to industry knowledge on SAF, and provide data to demonstrate the use of higher blends of SAF for future regulatory approvals," said chief executive Adel Al Redha.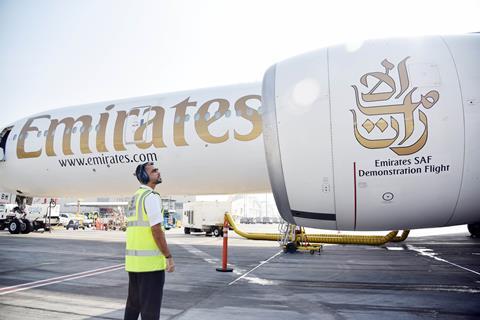 ASTM has been developing standards for 100% drop-in SAF for two years. Andac estimates that it will take another two years to complete the process, acknowledging that "many factors could impact that schedule".
The 100% drop-in SAF would also have to be compatible with infrastructure, such as fuel storage and hydrant systems, fuelling trucks, pipelines, barges and rail cars – "anything that deals with fuel", Andac says.
"In parallel, there are additional efforts the industry is working on and we are heavily engaged in the standardisation of some other components that cannot be called Jet A/Jet A-1, but comes close to it," he says. "It's not necessarily compatible with the entire fleet and entire infrastructure."
"We don't know whether that will be a practical fuel in the field in the future, but there's some interest toward it, so that's why it's being evaluated by the industry in general," he adds.
ASTM has developed a draft standard and is in the process of acquiring technical data to substantiate 100% drop-in SAF as a "fit for purpose fuel", Andac says. "This is very important because from the qualification and certification perspective, the main focus is safety, not sustainability… Is this a safe fuel that could be used in aviation equipment? That's why it needs to be data driven."
A committee review of the data will be followed by a review of fuel specifications. A balloting process will then allow stakeholders – manufacturers, fuel and equipment producers and other members of the aviation community – to provide feedback or make objections to the standards.
"When that balloting process is completed favourably, then you can issue the standard that defines that fuel," Andac says. "It will take time, but it's for a good reason: We need to take as much time as needed to make sure that these fuels are safe and fit for purpose."