Non-US airlines are struggling to complete radio altimeter retrofits ahead of looming deadlines established to prevent 5G interference, meaning some carriers' flights to the USA could be restricted in 2023.
That is according to a 15 November letter to Federal Aviation Administration acting administrator Billy Nolen from trade group IATA and more than 50 international airlines.
"Due to circumstances beyond our control, it will be extremely challenging for [foreign air carriers] to retrofit" radio altimeters before two deadlines, says the letter. "Failure to meet those deadlines will result in non-retrofitted carriers being prohibited" from completing instrument-assisted approaches and landings.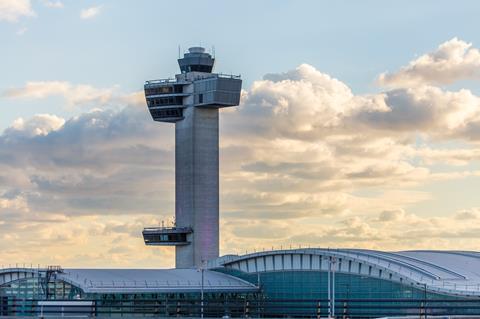 The letter says supply chain problems and certification hold ups are hindering altimeter retrofits. Aeromexico, Air Canada, ANA, British Airways parent International Airlines Group, KLM, Korean Air, LATAM, Lufthansa, Qantas, Qatar Airways and Virgin Atlantic are among carriers to sign the document.
The move marks the latest in a 5G saga beginning several years ago when US telecom companies secured rights to transmit in the 3,700-3,980MHz radio range, which they are using for new fifth-generation networks. AT&T and Verizon switched on their 5G system in January.
But the FAA and aviation groups say 5G transmits to close to the 4,200-4,400MHz range used by radio altimeters, risking interference. In October, FlightGlobal reported the FAA knew of roughly 80 incidents involving radio altimeter interference likely caused by 5G.
The FAA has been negotiating with the telecom industry, which previously agreed to temporarily restrict 5G transmissions near some US airports. The FAA also cleared altimeters on most US aircraft types as safe from 5G interference.
For a longer-term fix, the aerospace industry has urged the Federal Communications Commission (FCC) to mandate that cellular companies take steps to prevent interference.
But an FCC decision is not expected until mid-2023, the letter says. "If the petition is not granted, we understand that all non-retrofitted aircraft will be prohibited from the [national airspace] beginning in February 2024."
International carriers face two altimeter deadlines.
Aircraft types in so-called Group 2 – including Boeing 737s, 747-400s, 757s and 767s – must have retrofitted altimeters by year-end. Group 3 jets – 747-8s, 777s, Airbus A320s, A330s, A340s, A380s and Bombardier CRJs – must have updated altimeters by July 2023, according to the letter and IATA.
"Group 2 and 3 aircraft represent the large majority of commercial aircraft serving the US," the letter says. Without retrofits, aircraft will be prohibited from completing Category 2 and 3 low-visibility landings.
Embraer regional jets sit in Group 1. The FAA does not specify to FlightGlobal when those aircraft must be retrofitted, but media reports have said the deadline is this year.
But retrofits are progressing slow due to certification and supply chain trouble.
"We therefore urge you to work with your government partners and the 5G telecom service providers to reach an operationally viable short-term solution that allows carriers to continue to serve the US market without disruption," the letter says.
The FAA has been having "productive collaboration with aviation and wireless stakeholders", the agency tells FlightGlobal. "The FAA is committed to working with its fellow federal regulators to address longer-term concerns about the continued safe coexistence of aviation and 5G C-Band wireless communications."