An out-of-balance JetBlue Airways Airbus A321 tilted onto its tail and rested with its nose high in the air while on the ground at New York's John F Kennedy International airport on 22 October.
Images and video posted on X, the site formerly called Twitter, show the jet, while at a gate, resting tail-down on the tarmac.
New York-based JetBlue confirms the incident, saying the A321 had been operating flight 662 from Barbados to JFK.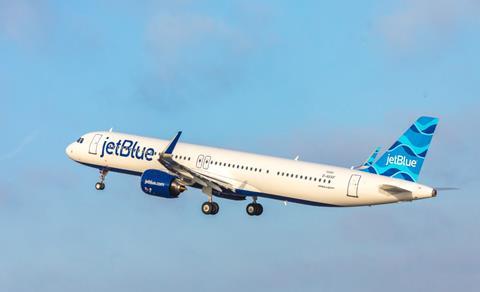 "Once at the gate, due to a shift in weight and balance during de-planing, the tail of the aircraft tipped backward causing the nose of the aircraft to lift up and eventually return back down," JetBlue says. "No injuries were reported. Safety is JetBlue's first priority."
"The aircraft has been taken out of service for inspection," it adds.
JetBlue does not provide additional details.
Flight tracking website FlightStats shows JetBlue operated the Barbados-JFK flight with an A321 registered as N959JB.
JetBlue received that jet, powered by twin International Aero Engines V2500s, new from Airbus in 2015, according to Cirium fleet data.