The crew of a Jetstar Airbus A320 with undercarriage retraction issues landed at Sydney Airport unaware that an apex pin was missing from the main landing gear.
The incident occurred on the morning of 1 August 2019 as aircraft VH-VFN (MSN5566) took off on a flight for Gold Coast, according a final investigation report issued by the Australian Transport Safety Bureau (ATSB).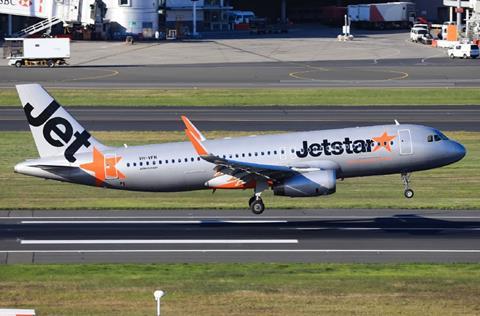 After departing, the crew received multiple warnings that the undercarriage was not retracting completely. The issue remained even after attempting to extend and retract the undercarriage.
Meanwhile, an aircraft part was collected on the ground at Sydney Airport, and was subsequently identified as an A320 main landing gear component.
While Jetstar told the crew that an aircraft part had been found, it said that its origin had not been ascertained. The crew was left to conduct checks, and decided to return to Sydney.
"When it was determined the part was an apex pin of a main landing gear torque link, Jetstar Line Maintenance was concerned about the aircraft landing with the defect and attempted to contact the aircraft via radio," says ATSB.
"However, by this time the aircraft was on final approach to land and therefore not monitoring the company radio frequency. While the landing was uneventful, further damage to the left main landing gear occurred including the loss of brakes and severing of electrical sensors."
The crew landed without being aware that the apex pin was from their aircraft. Having this knowledge, says ATSB, might have affected their decision making.
It was later ascertained that a crack in the apex pin had caused it to drop out.
Following the incident, Airbus issued an airworthiness directive calling for the inspection of 1,988 apex pins, which resulted in 19 being removed from service. Landing gear manufacturer Safran Landing Systems also revised the manufacturing process for the apex pin.
The ATSB adds that Jetstar also took action to improve non-normal communications.
"Jetstar clarified non-normal operational communication guidance for ground crews in the Airport Operations Manual," says the agency.
"This included dedicated phraseology for gaining priority on airband frequencies to relay high priority messages."
There were six crew and 160 passengers aboard the flight. None suffered injuries during the incident.