Joby Aviation says that the prototype aircraft which crashed during a flight test last month was pushing its flight envelope limits when it went down.
At the time of the accident on 16 February the aircraft had been "engaged in an envelope expansion campaign" Joby founder and chief executive JoeBen Bevirt says on the company's quarterly earnings call on 24 March. "That's normal for flight testing."
The Silicon Valley-based company is developing an all-electric vertical take-off and landing (eVTOL) aircraft with five seats that is planned to have a maximum range of 133nm (241km) on a single charge and travel at a top speed of 178kt (321 km/h).
Flight tracking data at the time of the accident showed that it was travelling much more quickly than that top speed.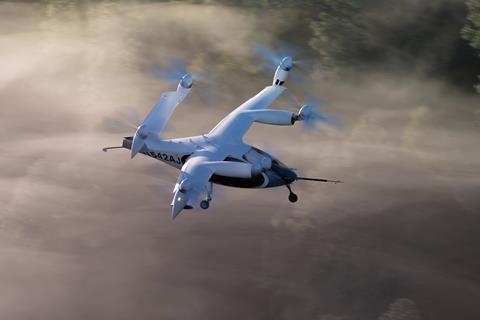 "We were at the end of the flight test expansion campaign and test points that were well above what we expect to see for normal operations of the aircraft," he adds.
The National Transportation Safety Board (NTSB) is investigating the accident, so company executives were reluctant to release any further details.
The NTSB had said on 17 February that the crash occurred in Jolon, California, which is located in a rural area about 174mi (280km) south of San Francisco, a day earlier. Two weeks ago, the safety agency said in a preliminary report that the mishap was due to "a component failure".
Joby earlier on 24 March announced the resumption of the flight testing programme with a second aircraft, after a five-week pause. That second prototype first flew in January. To date, it has made 38 flights.
"We're excited to be back in the air with our second pre-production prototype aircraft, building on the tremendous flight test achievements our team has made to date," says Didier Papadopoulos, Joby's head of programmes and systems.
The company is looking to "build on the momentum" that it had when the accident occurred.
"Ensuring that we continue to do that work over the next quarters to prepare for the final certification efforts is one of the key goals of that vehicle," Bevirt says. The company adds that it does not expect the aircraft's loss to have "a meaningful impact" on its timeline for certification.
"Certification is understandably a complex and multifaceted process," adds Papadopoulos.
Joby's main focus in 2022 will be on certification and early manufacturing.
"We plan to expand our facilities at our pilot manufacturing plant to support building the first aircraft on our production line as well as additional parts for certification and other operational requirements," the company says in its fourth quarter earnings report. The first "production-intent" airframe is due to fly this year, executives add.
Last week, Joby had said it had also successfully completed several FAA reviews at the end of last year.
"The systems review assessed Joby's plans and process for the development of complex, safety-critical, aerospace-grade systems and equipment," the company had said on 18 March. "Systems involved in the review included flight controls, propulsion controls, battery management, among many others."
"The compliance review evaluated Joby's approach to the development and verification of aerospace-grade software and airborne electronic hardware."
The company has therefore made "good progress" towards securing its Part 135 air carrier certification. Joby has said it expects to receive the certificate, which is required to operate the aircraft as an air taxi service - in the second half of 2022 as planned. It's aiming to launch its air taxi services in 2024