A federal judge in Florida has struck down the federal face-covering mandate that has been in effect since early 2021, but airlines are still requiring passengers and employees wear masks, at least for now.
The mandate, intended to mitigate the spread of Covid-19, was imposed by US public health authority Centers for Disease Control and Prevention (CDC). It requires people to wear face coverings in all public transportation settings, including on trains, ferries, aircraft and buses. It has been extended several times and is now due to expire on 3 May.
The ruling, from judge Kathryn Kimball Mizelle of US District Court for the Middle District of Florida, vacated the CDC's mask order, saying it "exceeded the CDC's statutory authority". But the Transportation Security Administration (TSA) is the agency that enforces the mask mandate in airports and aboard aircraft.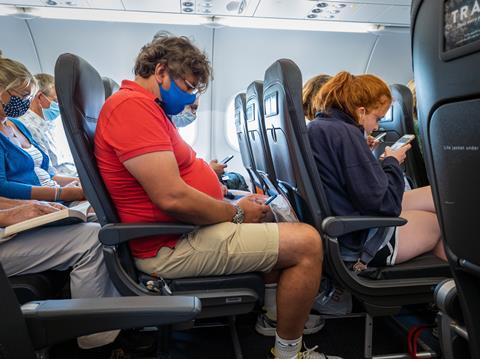 "This is obviously a disappointing decision," says White House press secretary Jen Psaki during a media briefing on 18 April. "The CDC continues recommending wearing a mask in public transit." She adds that the Department of Homeland Security and the Department of Justice are considering their next legal moves.
The implications on the US air travel system are not immediately clear, and the TSA did not respond to a request for information.
Delta Air Lines says it "will continue to comply with the TSA Security Directive on masks until informed otherwise by the TSA." Delta adds that it is looking for guidance from federal authorities.
United Airlines has told employees it will still require masks on aircraft at least until the current TSA order expires. However, it too says it expects further guidance from federal authorities.
"The federal requirement that masks be worn on board aircraft and in airports remains in effect for both passengers and employees, despite the decision by a federal judge on Monday that struck down the federal mask mandate," United says on 18 April. "We await additional information from the federal government on whether it will challenge the ruling or rescind the order. Until that time the airport mask policy remains unchanged."
Other US airlines did not respond to requests for comment. Airlines for America (A4A), the lobby group that represents 11 major US carriers, also did not respond to a request for comment.
Even if the federal requirement falls, private companies such as airlines, can still require passengers to wear masks.
Earlier in the day, Delta chief executive Ed Bastian said during a webcast interview with The Washington Post that he'd like the mask mandate to go away, and for passengers to make their own choices about the issue. However, he will likely continue wearing a mask when he travels.
"I certainly hope this is the last extension," Bastian said. "I hope that on May 3rd the mandate expires [and that], past May 3rd passengers will make their own decisions as to whether or not to wear masks."
Face coverings have elicited strong emotions, with some passengers becoming violent and threatening air crew whose duties included enforcing the federal requirement. The FAA has dished out hefty fines to numerous airline customers who have been involved in such altercations.