Pilots of a Horizon Air Embraer 175 regional jet diverted during a flight on 22 October after a person in the cockpit jump seat reportedly attempted to shut down the jet's engines.
That is according to an audio recording of communications between an air traffic controller and the pilots of the Horizon flight from Everett, Washington to San Francisco. The pilots diverted to Portland, Oregon.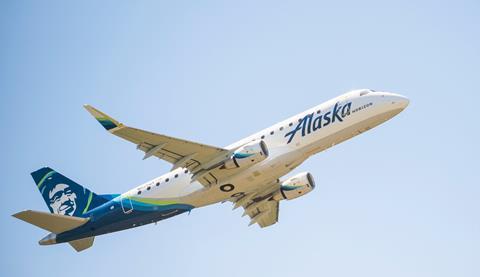 "We've got the guy that tried to shut the engines down out of the cockpit," one of the pilots tells controllers. "It doesn't sound like he's causing any issue in the back right now."
"I think he's subdued," the pilot adds. "We want law enforcement as soon as we get on the ground and parked."
Horizon Air parent Alaska Air Group confirms some details about the incident, which involved flight Alaska Airlines flight 2059, operated by Horizon.
"Alaska Airlines flight 2059… reported a credible security threat related to an authorised occupant in the flight deck jump seat. The crew secured the aircraft without incident," Alaska Air says. "The event is being investigated by law enforcement authorities."
Alaska adds that the passengers eventually travelled to San Francisco on a later flight.
The E175 departed Everett at 17:23 local time on 22 October, headed to San Francisco, but landed in Portland at 18:26. The aircraft is registered N660QX, according to FlightStats.com.
Neither the Federal Aviation Administration nor Federal Bureau of Investigation immediately respond to requests for comment.