Malaysian officials have located the flight recorders of a Beechcraft Premier I business jet that crashed into a highway while attempting to land at Kuala Lumpur's Subang airport.
The aircraft (N28JV) was flying from Langkawi to Subang and was on final approach when it crash-landed on a highway near Elmina township in Selangor state on 17 August.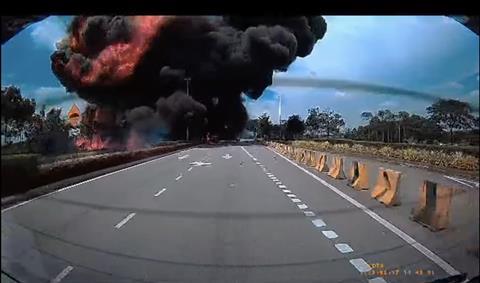 According to the Civil Aviation Authority of Malaysia (CAAM), which has opened an investigation into the crash, the Beechcraft was operated by Jet Valet, a Kuala Lumpur-based company owned by investment firm KAPB.
It was carrying six passengers - including politicians - and two crew members. Malaysian police confirmed in a press conference on 18 August that all passengers and crew were killed in the crash, along with two motorists.
The CAAM says aircraft took off from Langkawi at 14:08 local time, and was cleared to land at Subang at 14:28.
Three minutes later, the air traffic control tower at Subang observed "smoke originating from the crash site", but notes that no mayday call was made.
Dashcam footage on social media shows a large fireball and plumes of black smoke on the highway in the immediate aftermath of the crash.
According to Cirium fleets data, the aircraft (serial number RB-97) first was built in 2004. It entered service with the Malaysian operator in May this year, after being parked for a year in Dusseldorf. It is powered by two Williams International FJ44-2A turbofans.
The incident comes a year after a spate of incidents involving light aircraft operated by flight training schools. In August 2022 CAAM issued a safety notice urging the training schools to tighten their safety management measures.